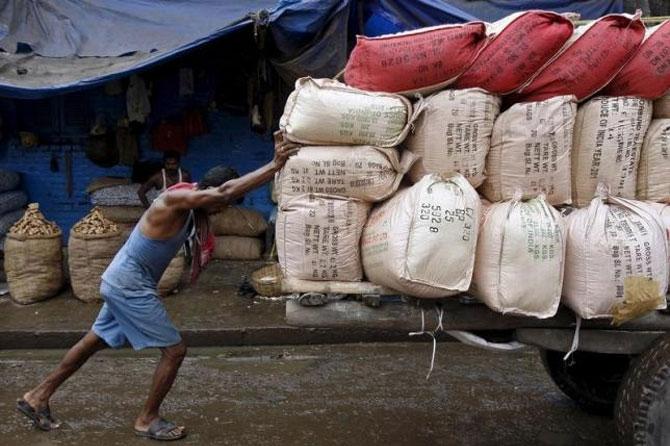 Legal experts have a mixed reaction to the government's track record in managing its legislative business.
On the face of it, the Narendra Modi-led National Democratic Alliance government's track record on its legislative performance over the past two years appears to shine, compared to the first two years of the previous two regimes of the United Progressive Alliance under Manmohan Singh.
But, the real test of UPA's legislative skills will come over the next 12 months as and when Parliament takes up the legislation related to the goods and services tax, says legal experts.
The Modi government could steer through Parliament 59 out of 75 Bills introduced over the past two years (excluding finance and appropriation Bills), giving it a strike rate of 78.6 per cent.
Although UPA-I passed 67 Bills in the first two years, the Manmohan Singh-led government introduced 116 legislation to Parliament during that period.
That gave it a success rate of 57.7 per cent. In its second tenure, the United Progressive Alliance introduced 100 Bills in Parliament in the first two years. But, only 47 of these Bills were passed.
When it comes to repealing obsolete and redundant laws, the Modi government fared better. Over the past one year, Parliament passed four Bills to repeal obsolete and redundant central laws.
In all, these Bills repealed 1,179 laws.
However, legal experts have a mixed reaction to the government's track record in managing its legislative business.
"The government has done fairly well on the legislative front in the past two years," says Debanshu Mukherjee, who heads the corporate law financial regulation vertical at Vidhi Centre for Legal Policy.
The government has been successful in enacting several important legislation, some of which are regarded part of 'structural reforms', including the Bankruptcy Code, the Aadhaar Act, the Commercial Courts Act, the amendment allowing 49 per cent foreign direct investment in the insurance sector, and the amendments to the Arbitration Act.
"Some of these reforms have been long overdue," he added.
However, Jagdeep Chhokar, founder member of Association for Democratic Reforms, is of the view that it is not fair to judge legislative performance based on just numbers.
"A number of significant legislation that is of national importance has become prey to partisan politics.
"Take the example of GST legislation that has become a political football," says Chhokar. All such significant legislation should be based on consensus among political parties, he adds.
Chakshu Roy, head of outreach at PRS Legislative Research, points out that laws passed by Parliament should also be analysed by the level of parliamentary scrutiny they have gone through.
"Many of them were passed without being referred to a parliamentary committee, and with little or no debate."
While legal experts welcome government's focus on clearing the statute books of obsolete and redundant laws, Surya Prakash, fellow and programme director at Daksh, which undertakes research and activities to promote accountability and better governance, says it is only the first step in this direction.
"The next steps of harmonising and consolidating multiple laws are the more difficult ones, which must be carried out after extensive empirical studies are done."
MAKING THE MOST OF MAJORITY IN THE LOK SABHA
Some key Bills passed by Parliament in the 16th Lok Sabha
The Insurance Laws (Amendment) Bill, 2015
The Undisclosed Foreign Income and Assets (Imposition of Tax) Bill, 2015
The Juvenile Justice (Care and Protection of Children) Bill, 2014
The Real Estate (Regulation and Development) Bill, 2015
The Aadhaar (Targeted Delivery of Financial and Other Subsidies, Benefits and Services) Bill, 2016
The Insolvency and Bankruptcy Code, 2015
Over the past one year, Parliament passed four Bills to repeal obsolete and redundant central laws
1,179 number of repealed laws
Of these, 421 laws are on substantive issues, 758 were Appropriation Acts
Some obsolete and redundant laws from the pre-independence era that have been repealed
The Foreign Recruiting Act, 1874 (Sought to restrict recruitment of Indians by foreign states)
The Indian Tramways Act, 1902 (Applied to tramway companies)
The Elephants Preservation Acts, 1879 (Dealt with licence to kill and capture wild elephants)
The Lepers Act, 1898 (Segregation and medical treatment of pauper lepers)
Source: PRS Legislative Research
The image is used for representational purpose only. Photograph: Rupak De Choudhuri/Reuters