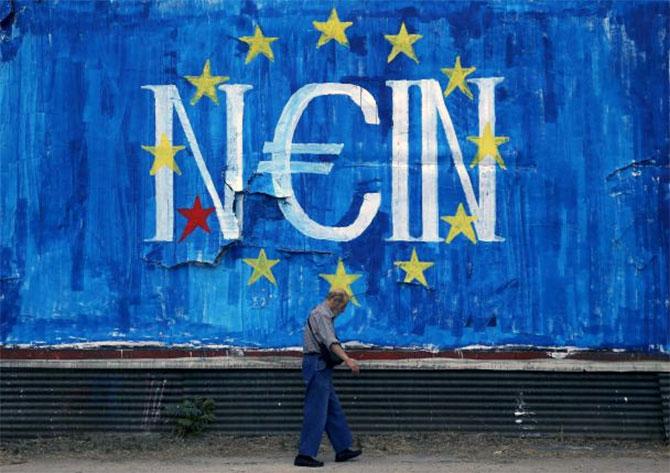 With Greece witnessing a full-blown economic crisis, India's software and engineering exports may take a hit and the country may also face larger capital outflows due to a weaker euro, industry and government officials warned on Monday.
The Greece situation battered the stock markets globally today, including in India, as foreign investors looked to re-allocate their portfolios in the wake of weakness in euro against various other currencies, while the companies with direct exposure to Eurozone markets were hit hardest.
Greece's financial crisis intensified with Prime Minister Alexis Tsipras announcing capital controls and shutdown of banks at least for a week.
Reacting to the news, the benchmark BSE Sensex dropped by more than 600 points in early trade today, but managed to recoup some loses later on selective buying in the beaten-down counters and settled the day lower by 167 points at 27,645.15.
In the currency market, euro turned weak against the Indian rupee to Rs 70.97, from Rs 71.25 in the last trading session, even as the US dollar and British Pound gained.
Finance Secretary Rajiv Mehrishi said the economic crisis in Greece may trigger capital outflows from India and the government is consulting the RBI to deal with the situation.
"Greece crisis does not have any effect directly on India. (But) interest rate may firm up in Europe. In case of firming up of interest rate in Europe, there can be outflow of capital from India," Mehrishi said.
This is contrast to RBI governor's Raghuram Rajan comments last week that India may be able to withstand the impact.
Commerce Secretary Rajeev Kher said exports from India would be impacted negatively if the European Union is hit from the Greece crisis, although he ruled out any major direct impact of the prevailing Greek situation.
"India does not have large exposure of Greece as far as trade is concerned," he said.
However, engineering exporters' body EEPC India said the economic crisis in Greece will impact engineering exports from India as European Union is the largest destination for such shipments. The industry body said it sees indirect impact from the UK, Italy, Turkey and France.