The meeting is expected to chart a road map for cleaning up their balance sheets and boost credit flows, reports Somesh Jha.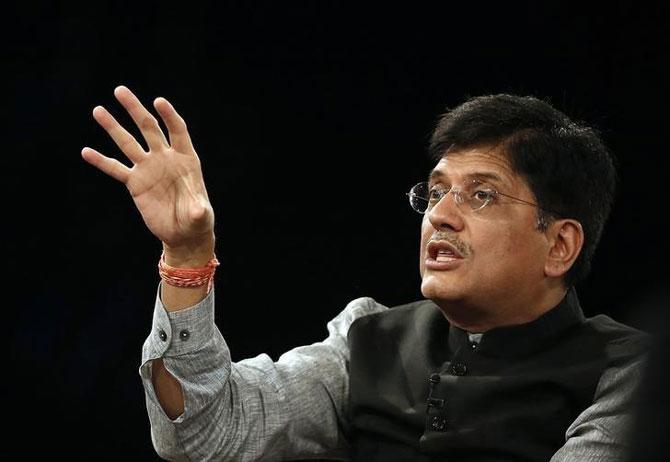 Union Finance Minister Piyush Goyal will hold a meeting with the chief executives of six Delhi- and Kolkata-based public sector banks on Tuesday (June 19) to chart a road map for cleaning up their balance sheets and boost credit flows.
Chief executives and other top management officials of Punjab National Bank, Punjab and Sind Bank and Oriental Bank of Commerce, headquartered in Delhi, and Allahabad Bank, Uco Bank and United Bank of India, based out of Kolkata, would attend the meeting.
Department of financial services officials will also be present, a source said.
The meeting, to be held at the State Bank of India's local head office at Sansad Marg in Delhi, will also discuss ways to strengthen risk mechanism, and "achieve global standards for banks".
Goyal, who is holding additional charges of the finance ministry as Arun Jaitley is recovering from a kidney transplant, had held a similar meet in Mumbai on June 8 with top officials of government-owned banks headquartered in the western and southern regions.
It was decided that the government would set up a panel under PNB chairman Sunil Mehta to examine a proposal of transferring non-performing assets of PSBs to special purpose vehicles -- asset reconstruction companies or asset management firms.
Nineteen out of 21 PSBs had reported net losses and a sharp rise in bad loans in 2017-18. PNB registered the biggest-ever loss by any domestic bank at Rs 122.8 billion in the previous financial year, mainly owing to fraudulent loans allegedly given to companies belonging to Nirav Modi and Mehul Choksi.
The Reserve Bank of India's new provisioning norms also played a role in widening the losses and bad loans of PSBs. Scrapping of the loan restructuring schemes had reportedly led to higher provisioning.
Among the banks that Goyal will hold a meeting with on Tuesday, and apart from PNB and OBC, Allahabad Bank and Uco Bank are the worst-performing in terms of net loss in 2017-18.
While OBC's net loss stood at Rs 58.7 billion, Allahabad and Uco Bank registered a loss of Rs 46.7 billion and Rs 44.4 billion respectively. Again, Uco and United Bank had their gross NPAs above 20 per cent.
The performance of Punjab and Sind Bank was comparatively better, with its net loss at Rs 7.4 billion -- the lowest among PSBs that registered losses.
Allahabad Bank is in the middle of a crisis with the government stripping its chief executive Usha Ananthasubramanian of all her powers. In addition, the RBI has restricted lending to risky assets and raised high-cost deposits for the bank after its weak financial performance in 2017-18.
Allahabad Bank, United Bank, Uco Bank and Oriental Bank of Commerce are under the RBI's prompt corrective action.
In the previous meeting of bankers, the issue related to merger of PSBs was also discussed. SBI gave a presentation on its experience related to merger with its five associate banks.
Another committee under Bank of Baroda chief PS Jayakumar was formed to formulate a strategy to transfer good loans of banks under PCA to a consortium of banks.
Photograph: Anindito Mukherjee/Reuters.