Best practices followed in states with strong industries to be replicated in others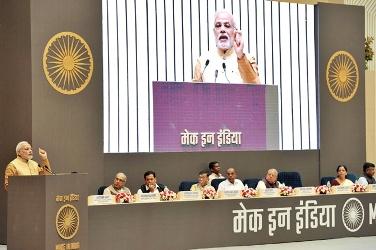 In an effort to kick start its flagship campaign Make in India, the government has decided to focus on 10 to 12 states, initially, based on their industrial growth.
The best practices followed in these states will then be replicated in other states.
Although the idea is to focus on all states to turn India into a global manufacturing hub, the department of industrial policy and promotion, the nodal agency to carry out the campaign, has selected a handful of states that have a sound industrial backbone such as Maharashtra, Tamil Nadu, Karnataka, Gujarat, Andhra Pradesh, Telangana and others.
The Centre has put on them the onus to improve all the parameters that are laid out in the World Bank's 'Ease of Doing Business' report.
To begin with, these states have been asked to improve their business environment in terms of ease of doing business and de-licensing and deregulation within specific timelines, according to DIPP officials.
DIPP has already handed a checklist to the chief ministers of these states.
These decisions were taken during the national workshop on the Make in India held earlier this week.
During the one-day workshop 18 sessions were held in which 25 ministries and all states participated.
"India needs action than more and more policies.
"Every ministry, every single state has been asked to integrate and address the fundamental concerns instead of always seeking incentives from the Centre," DIPP secretary Amitabh Kant told Business Standard.
He said if jobs are to be created then they have to be created in the states.
"We have identified 25 sectors in the Make In India, states have the freedom to choose which one they want to strengthen.
"They have to converge and get going now."
The list has been prepared by global consultancy firm KPMG with stipulated time limits based on which these states have to take action on issues such as starting a business, land practices, registration of business and electricity supply among others.
The Centre, once satisfied with the performance, will then direct other states that are not industrially sound to follow their model and adopt measures accordingly.
Their performance will be analysed across all the 25 verticals that have been identified as part of the campaign.
Besides, measures taken by these states in each parameter will be closely monitored by the Centre such as in land acquisition, construction permits, property registration, tax payment, single window, standardisation of documents and water and sewerage connection.
The DIPP recently undertook a study on 10 state-level best practices, which will be documented for a nationwide application.
Some of these are construction permits granted in Odisha, filing of taxes done in Andhra Pradesh, land acquisition process of Haryana and standardisation of property documents in Rajasthan among others.
"It is a good step if the government is planning to start with a handful of states. India is not just Delhi.
"If states are to grow economically, employ its youth then they have to create an enabling environment for businesses to take place," said Ajay S Shriram, the Confederation of Indian Industry president.
THE PLAN OF ACTION
DIPP, the nodal agency to carry out the campaign, has selected states that have a sound industrial backbone such as Maharashtra, Tamil Nadu, Karnataka, Gujarat, Andhra Pradesh, Telangana and others
The states have been asked to improve their business environment in terms of ease of doing business and de-licensing and deregulation within specific timelines
These decisions were taken during the national workshop on the Make in India held earlier this week
The Centre, once satisfied with the performance, will then direct other states that are not industrially sound to follow their model and adopt measures accordingly
Their performance will be analysed across all the 25 verticals that have been identified as part of the campaign
Image: Prime Minister Narendra Modi at the launch of the Make in India Mission at Vigyan Bhavan in New Delhi. Photograph: PIB