Amid stiff competition from bidders, Hindalco Industries won Dumri mine in Jharkhand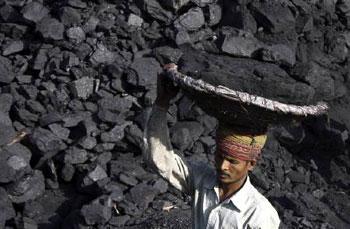 Government kitty has swelled by Rs 12,591 crore (Rs 125.91 billion) with the sale of three mines to Hindalco, Jindal Power and Indrajit Power today, the third day of the second tranche of coal block auctions.
Amid stiff competition from bidders, Hindalco Industries won Dumri mine in Jharkhand, Jindal Power grabbed Tara block in Chhattisgarh and Indrajit Power clinched Nerad Malegaon block in Maharashtra.
"Indrajit Power bids the highest for Nerad Malegaon for Rs 660 (a tonne). Hindalco highest bidder at Rs 2,127 (a tonne) for Dumri and Jindal Power at Rs 126 (a tonne) for Tara coal block," coal secretary Anil Swarup tweeted.
These three mines would contribute a cumulative Rs 12,591 crore to the state exchequer. With the three blocks, the government stands to garner over Rs 1.43 lakh core, including over Rs 1 lakh crore from the auction of 19 blocks in the first tranche. Three more coal blocks will be put up for auction when the bidding starts on Sunday.
The amount of proceeds has been calculated based on extractable reserves and highest bid price.
Hindalco Industries has bagged Dumri mine in Jharkhand for an estimated Rs 9,809 crore (Rs 98.09 billion), while Jindal Power won Tara block in Chhattisgarh for Rs 2,103 crore (Rs 21.03 billion). Indrajit Power bagged Nerad Malegaon block for Rs 679 crore (Rs 6.79 billlion).
"Auction for Tara block, which is for power sector, began at 11 am with rupee one bid. For Dumri, the auction began at Rs 2,125 per tonne while for Nerad Malegaon it started at Rs 413 per tonne," an official told PTI.
For Tara block, it was reverse bidding while for the other two it was forward bidding.
On March 5, in fierce bidding that lasted over eight hours, Mandakini Exploration and Mining bagged Mandakini block in Odisha, while the Meral mine in Jharkhand went to Trimula Industries, in the process fetching an estimated Rs 19,633 crore (Rs 196.33 billion) for the states.
On March 4, the first day of the second round of the auction, three mines that were sold garnered Rs 11,083 crore (Rs 110.83 billion).
In the second leg of the coal block auction, government has put up 15 blocks for sale, which are under the 'ready-for- production' category.
The auctions follow the Supreme Court's decision last year to cancel the allocation of 204 coal mines.