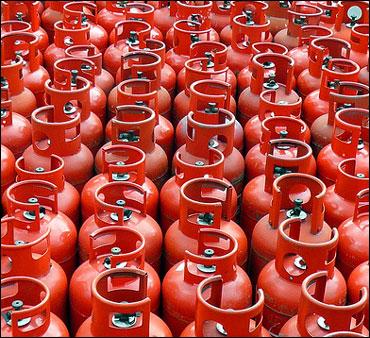 After diesel, the government is considering raising cooking gas (LPG) and kerosene rates in small doses of Rs 5 per cylinder and Rs 0.50-1 a litre every month to wipe out Rs 80,000 crore subsidy on the two fuels.
The previous UPA government had in January 2013 decided to raise diesel prices by up to 50 paisa litre every month.
But for aberrations on two occasions, the monthly increases have taken place regularly to trim subsidy on diesel to just Rs 1.62 a litre. This too looks set to be wiped off to make the fuel deregulated or free, with the new government continuing with the UPA decision.
Following the diesel model, the oil ministry is now proposing monthly increases in LPG and kerosene rates, sources privy to the development said.
Subsidy on LPG currently is a staggering Rs 432.71 per 14.2-kg cylinder and at Rs 5 per month increase it will take 7 years to wipe out the subsidy.
Sources said the ministry is of the view that the monthly increases can be as high as Rs 10 if the political leadership takes a stand.
On kerosene, the subsidy currently is Rs 32.87 per litre and at Re 1 hike per month it would take more than two-and-a-half years to wipe out the subsidy.
Fuel subsidy, they said, is the biggest drain on the exchequer. In the current fiscal, subsidy on diesel, LPG and kerosene is estimated at Rs 115,548 crore (Rs 1155. 48 billion). Of this, LPG accounts for Rs 50,324 crore (Rs 503.24 billion) and kerosene Rs 29,488 crore (Rs 294.88 billion).
This subsidy is met through a combination of direct cash dole from the budget and contribution by state-owned firms like ONGC.
In 2013-14, the government paid Rs 70,772 crore (Rs 707.72 billion) in cash subsidy while upstream firms shelled out Rs 67,021 crore. In the previous year, the government payout was Rs 100,000 crore (Rs 1 trillion) and upstream contribution Rs 60,000 crore (Rs 600 billion).
For diesel, the subsidy estimated is Rs 35,736 crore (Rs 357.36 billion) but this will come down if the monthly increases continue as planned, sources said.
Petrol price was deregulated in June 2010 and retail rates have more or less moved in tandem with the cost.
With the beginning of monthly increases in January, subsidy on diesel tripped to less than Rs 3 a litre in May last year before a fall in rupee value led to it widening to Rs 14.50 per litre in September, 2013.