Only two in every five migrants said they received ration or cooked food from the administration either daily or at times.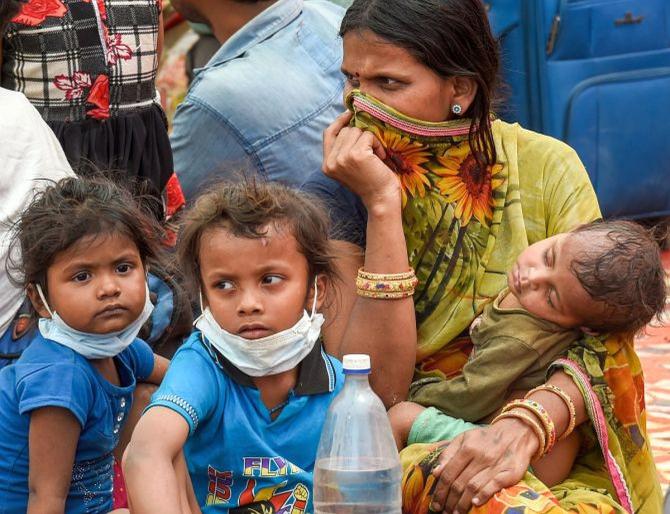 A recent survey by news portal Gaon Connection, along with Lokniti-CSDS, has found that hunger was among the most common problems that impacted the millions of migrants during the lockdown in cities.
And, only two in every five migrants said they received ration or cooked food from the administration either daily or at times.
To address the problem and ensure that migrants and those who don't have ration cards can become part of the free food distribution scheme, the Centre, in mid-May, announced free grains distribution to almost 80 million people.
This is outside the ambit of the ration system as part of its Atmanirbhar Bharat package.
All those beneficiaries were to be given 5 kilograms of wheat or rice per person for May and June along with 1 kilogram of chana for each family.
Just like in PDS, the mechanism for distribution and identification of beneficiaries was the responsibility of the states.
But the data showed that till August 17, though states lifted almost 79 per cent of the allocated quota of grains for migrants fixed at 0.80 million tonnes, they distributed just 38 per cent of it, which is 0.24 million tonnes.
This is just around 30 per cent of the total food grains allocated for migrants and non-ration card holders, something which a recent Parliament Standing Committee also pointed out.
Of the 80 million to be covered in each May and June, around 25.1 million received grains each month, which comes to 31.3 per cent of the targeted.
The problem
Distribution of free food as announced by the Atmanirbhar Package – to those who do not possess a ration card but are in extreme need like migrants – has been a problematic area.
A major reason for many people being left out from the ration system is non-updation of beneficiary list under the National Food Security Act (NFSA) since 2011.
The Act governs the distribution of cheap foodgrains in the country.
It guarantees a minimum 5 kg of foodgrains per person per month – at a subsidised rate of Rs 5 a kg for rice and Rs 3 per kg for wheat – to almost 800 million people.
This is based on the cut-off of 67 per cent as per the 2011 Census.
Reason for low distribution
The Centre has clarified the estimate of 80 million migrants and non-ration card holders for whom an allocation of 0.8 million tonnes of cereals was made is based on initial estimate and should not be construed as a real target but an intended target to serve if it had existed.
"To ensure that there was uniform availability of food grains, each state was allocated additional food grains aggregating to 10 per cent of the nearly 810 million covered under the National Food Security Act (NFSA)," an official statement said.
It said moreover, around 6.7 million new ration cards have been issued by the states after the lockdown, which was added on to the 25.1 million migrants who got food under the Atmanirbhar Bharat Package, thus raising the number of actual beneficiaries to 31.8 million on a monthly basis.
It further said that, the Food Act covers around 810 million people while another 200 million people are covered by state's own scheme.
Therefore, around 10.1 billion are covered under the ration programme.
"Thus, after covering more than 10 billion people under the Public Distribution System (PDS), the provision for additional 80 billion people was deliberately on the liberal side and the moderate utilisation clearly shows that the actual number of inter-state migrants was much less than anticipated earlier," an official statement said.
It added that another perspective for this could be that as ration card holders got such huge quantities of foodgrains for free, the requirement of those without the cards was less.
Photograph: Atul Yadav/PTI Photo