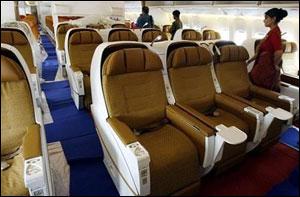 Concerned over flight seats going empty, the government has asked Indian carriers why could they not charge low spot fares on the travel date to fill up about 30 per cent of their seats that go vacant.
Observing that highly exorbitant rates were being charged closer to the travel dates, Civil Aviation Ministry officials, however, made it clear that the government had no intention to decide airfares which have to be determined by the market.
They pointed out that the average passenger load factor for all Indian airlines hovered around 70-75 per cent, implying that the remaining seats on a flight go empty.
The officials, at a meeting of the Civil Aviation Economic Advisory Committee here yesterday, suggested that the airlines could charge last minute spot-fares at low fares to fill up their seats.
Maintaining that the government would not determine airfares, they said the Ministry and aviation regulator Directorate General of Civil Aviation (DGCA) would continue to closely monitor the movement of airfares, particularly to check both predatory and exorbitant pricing. The meeting came in the backdrop of a Supreme Court directive last month to DGCA to examine the tariff structure of Indian airlines in view of the wide range of the base prices of air tickets.
The apex court had expressed concern over the massive differential between the lowest and highest air fares on the price bands.