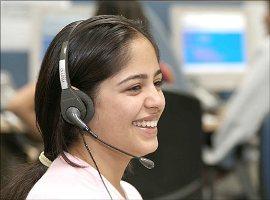 The banking and information technology sectors saw the September hiring increase 52 and 34 per cent year-on-year (y-o-y), respectively.

The Naukri Job Speak Index for September is 1,518, 23 per cent rise.

The oil and gas and pharmaceuticals sectors saw 35 and 28 per cent growth, respectively. The telecommunications sector 26 per cent.
The business process outsourcing and insurance sectors 16 and 13 per cent, respectively. The construction and media sectors 10 and six per cent, respectively.

"The Naukri Job Speak Index has been growing steadily for two months. We expect the trend to continue," said Hitesh Oberoi, managing director and chief executive, Info Edge (India).

Among large cities, Bangalore and Pune saw most growth: 36 and 35 per cent, respectively.

Aditya Narayan Mishra, staffing president, Randstad India, said, "Many start-ups have started visiting business schools (B-schools)."

"But the numbers are still not at the pre-sub-prime crisis level. However, students at premium engineering and B-schools have once again begun to get more than one offer. IT salaries have remained the same. The sales force's have seen some inflation-related correction."

IT companies Infosys, Wipro, Accenture and Cognizant are recruiting in four digits from campuses, and making multiple offers to one student in cases.

In certain cases, engineering colleges have done away with reserving the day-one slot for a company.

At Chennai-based SRM University, 4,000 job offers were made on the first day; 3,700 were from Infosys, Wipro and Cognizant. Cognizant handed 1,502 offers. Infosys and Wipro 1,105 and 1,082, respectively.

Dhananjay Bansod, managing partner, IKYA Human Capital Solutions, said, "The period of lay-offs is almost gone. Companies are optimising their resources."

Rituparna Chakraborty, co-founder and senior vice-president, TeamLease Services, said consumer durables, some parts of the retail and e-commerce sectors had seen a good increase in hiring. In the banking domain, she said the spurt was due to the next round of licences expected.

"The existing companies are gearing for high attrition that may be a result of banks coming in," she said.

Meanwhile, the digital and e-commerce segment has seen a rise in warehouses.

By the latest findings in the 2014/15 Michael Page India Salary & Employment Forecast, there has been a steady rise in hiring in the finance and accounting sector in 12 months. More, the permanent headcount has increased over 12 months and is expected to pick up further in the sales and marketing segment.

The forecast said there was high demand for innovative marketing professionals in the fast-moving consumer goods sector. Reaching out to rural India was vital. In the retail space, the coming of companies from Europe, the UK and US have led to high demand for professionals with operational and merchandising skills.

It said the banking and financial services sector was seeing a shift in their expansion focus to regions outside large cities.