Dealers anticipated a sharp rise in jewellery demand this wedding season, but then came demonetisation.
Dilip Kumar Jha/Business Standard reports.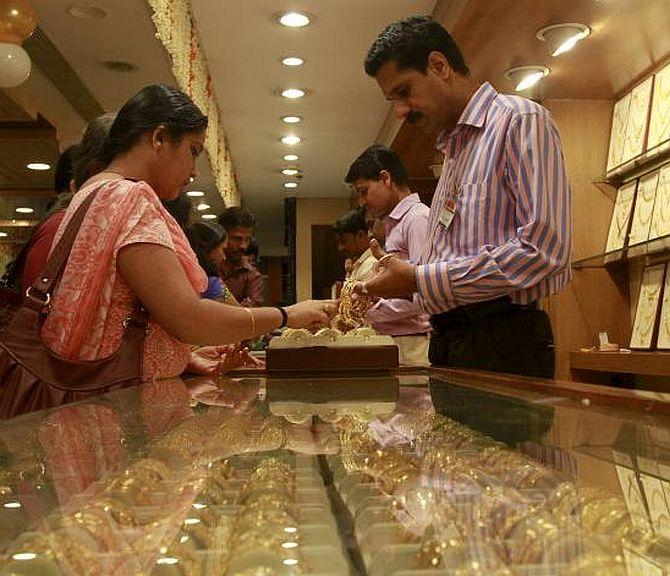 India's gold import in November was the highest in this calendar year, due to a sharp increase in demand from bullion dealers and stockists.
Trade sources estimate import at 100 tonnes, as compared to 98 tonnes in the same month last year and 84 tonnes in October.
Dealers and stockists were anticipating a sharp rise in jewellery demand this wedding season, before the demonetisation of high value currency notes was announced on November 8.
With that announcement, consumer demand for gold jewellery halted, resulting in a cascading effect on gold demand from jewellers, too.
"Import rises after Diwali, as jewellers book bullion for preparations of ornaments for the forthcoming wedding season. But, of the estimated 100 tonnes of import, around 70% could be lying in the vaults on evaporating consumer demand," said Prithviraj Kothari, managing director, RiddiSiddhi Bullions, a dealer at Zaveri Bazaar here.
Also, since the government cancelled legal validity of Rs 500 and Rs 1,000 notes, the income tax department has been conducting search and seizure operations on jewellers across the country allegedly involved in illegal sales for old currency notes.
The department has seized a huge quantity of gold jewellery meant for delivery.
And many transacting in cash face a huge slowdown. Especially so for recovery of gold from old jewellery; jewellers could not pay customers in cash.
Jewellery is usually sold for an urgent cash need; this process has halted.
Only the organised sector entities, dealing only in electronic payment, faced no problem.
"Owing to demonetisation, the ability to transact business in cash has disappeared. Our business, however, has not impacted at all; cash transactions never existed on our books," said Rajesh Khosla, managing director, MMTC Pamp, the only primary gold metal refinery with London Bullion Market Association certification in India.
"Trust on gold as the last resort will go up. Gold has been used as a store of value for ages and no authority can ever demonetise or devalue it with a decree. People will want to invest in gold as a back-up for tough times," said Kothari.
"However, gold sales will be impacted in India if interest rates come down. A lot of consumption will move towards purchase of white goods, cars, homes and vacations. The only silver lining would be for the very low income group, dependent on loans against gold. These people will be able to avail of such loans at a lower interest cost," Kothari added.
Jewellers have urged the government to reduce the import duty on gold from the present 10% to 6%.
---
No more trickery, BIS narrows hallmarking norms for gold jewellery
From January 1, only that with gold purity of 22, 18 and 14 carats to be hallmarked; to leave out a fourth of normal retail display, reports Dilip Kumar Jha.
In a major blow to jewellers, the Bureau of Indian Standards (BIS) under the ministry of consumer affairs has made hallmarking of gold ornaments mandatory for three categories beginning the New Year.
Effective January 1, jewellers will need to hallmark the 22, 18 and 14 carat jewellery they sell to consumers.
At present, gold ornaments with all purity levels between 9 and 24 carat are available for consumers, but hallmarking is not compulsory, though organised sector jewellers offer hallmarked gold jewellery in 22 carat and diamond studded jewellery in 18 carat.
Since consumers demand ornaments in other carats too, jewellers make ornaments in as many as 7 other carat levels beyond these three categories.
However, as per BIS, these ornaments will not be hallmarked, leading to a trust deficit between the jeweller and the customer.
Around a quarter of the stock currently on display in retail shops would be out of the hallmarking net.
In case jewellers seek to hallmark such ornaments, they need to scrap ornaments for melting and manufacturing jewellery again which would add cost to produce the same jewellery with changed purity level in order to adhere to the BIS hallmark norm.
'Gold and gold alloys shall be classified in accordance with their fineness in grades of 22, 18 and 14 carat. These classifications are applicable for gold jewellery/artefacts also,' said the revised BIS guidelines dispatched to its jeweller members and associations on Thursday.
'The maximum permissible limits of cadmium and each of platinum group metals in gold alloys for manufacturing jewellery/artefacts and gold solders are 0.02% and 0.05%, respectively,' the revised BIS guidelines added.
Meanwhile, in the revised guidelines, the BIS introduced a re-testing clause allowing negative tolerance of 2 parts per thousand, which would take care of marginal failures in market samples.
Also, jewellery below 2 gm would need to be hallmarked under the new guidelines, which had been kept out in the earlier rules.
Interestingly, around half of high value ornaments are handcrafted. Apart from that jewellery linked with cultural specifications of customers also involve unique craftsmanship.
To make such jewellery, therefore, artisans normally use gold of various fineness by lowering the gold's purity by blending cadmium, ruthenium and iridium according to their requirements to manufacture jewellery.
Sometimes, jewellers also use copper for connecting two joints and bringing strength for sustainability of ornaments.
"On several occasions, the fixed purity of gold caratage cannot be maintained. This means such ornaments would not be hallmarked. This means jewellers would continue to claim the purity level of such ornaments of their choice and customers would get cheated. So, the whole purpose of hallmarking gets defeated," said Surendra Mehta, Secretary, India Bullion and Jewellers Association (IBJA).
The IBJA is planning to write a letter to the MCA and BIS seeking relaxation in the revised norms and allowing hallmarking of jewellery with other gold purity levels also.
"Jewellery retailers interested in selling hallmarked jewellery have realised that these are basic purity levels to be considered in future. Hence, jewellers need to turn to these basic varieties of ornaments for manufacturing in future," said Ashok Minawala, Director, All India Gems and Jewellery Trade Federation.
"The general format of gold purity is 22 carat in jewellery. But some regional customers demand 23 carat jewellery which we produce to serve them. Hence, the widely accepted purity are 22, 18 and 14 carat. But jewellery with other than these purity levels should also be hallmarked," said Rajiv Popley, Director, Popley and Sons, a decades-old jewellery in Mumbai.
The jewellery sector has been under pressure with the mandatory requirement of the permanent account number (PAN) for purchase over Rs 2 lakh, levy of excise duty and of late, demonetisation of high-value currency notes.
Photograph: A jewellry store. Image published only for representational purposes.