With the expectation of a big rise in the market for 'sensitive toothpastes' in the near term, GlaxoSmithKline (GSK), the largest company in the health food sector, has forayed into this category in India with its biggest global brand, Sensodyne Toothpaste. This has been launched across all metropolitan and Tier-I cities.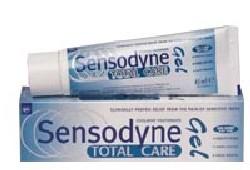 'Sensitive teeth' is a condition where one feels a sharp, short pain in the tooth while eating or drinking anything hot, cold or sweet. Most consumers are unaware of this as a problem.

The incidence of sensitivity in India is currently estimated at 17 per cent, as against 25 per cent globally. And, only four per cent of all sensitivity sufferers visit a dentist.

The toothpaste category in India sees Rs 2,720 crore (Rs 27.20 billion) of annual sales, sub-segmented in 'economy', 'popular' and 'premium' categories.

Of this, urban India comprises about Rs 1,850 crore (Rs 18.50 billion). While 'economy' includes Babool, Cibaca, Anchor, etc and is estimated at Rs 530 crore (Rs 5.30 billion), 'popular' includes the Colgate Herbal, Promise, Pepsodent and Close-up brands, with Rs 1,930 crore (Rs 19.30 billion).

Sensodyne is placed at the premium category, with others such as Colgate Sensitive, Vicco, Colgate Total, Meswak and Pepsodent Sensitive, and is estimated at about Rs 260 crore (Rs 2.60 billion), or about eight per cent of the total toothpaste market.

In this eight per cent, Sensodyne would be in stiff competition with many strong regional players like Warren Pharmaceutical's Sensodent and Sensoform, with two per cent, majors such as Colgate Sensitive with 0.9 per cent and JL Morison's Emoform with about 0.6 per cent.

Industry experts say the sensitive toothpaste segment will grow to 12-15 per cent of the total toothpaste market in the next three to five years.

GSK India expects Sensodyne to be the number one player in this category and achieve about five per cent market share over the next three years.

It will be available across all major dentists' clinics, chemists, modern retail outlets and independent retailers, in two variants - Fresh Mint Toothpaste and Fresh Gel, priced at Rs 42 and Rs 45, respectively, for a 40g tube.

Sensodyne Fresh mint will also be available in a bigger 80g pack, for Rs 75.

Sensodyne posted Rs 3,405 crore (Rs 34.05 billion) turnover globally last year and is reportedly the fastest growing toothpaste in the world, with a 17 per cent annual growth rate.

GSK's launch into oral healthcare would be the third phase of the marketing strategy of GSK India, wherein they are trying to bring in global brands to the Indian portfolio.

Earlier moves were with Lucozade, an energy drink, and Breatheright, nasal strips for snoring and nasal congestion.

The 2005-08 strategy focused on improving the brand equity of original brands and adding new sciences to the traditional ones.

From 2008-2010, the company focused on diversifying the existent nutritional category brands such as biscuits, instant noodles and cereal bars.

The company plans to create awareness about tooth sensitivity, through print and TV advertisements, by endorsement through dentists and making consumers experience sensitivity problems themselves at certain outlets.