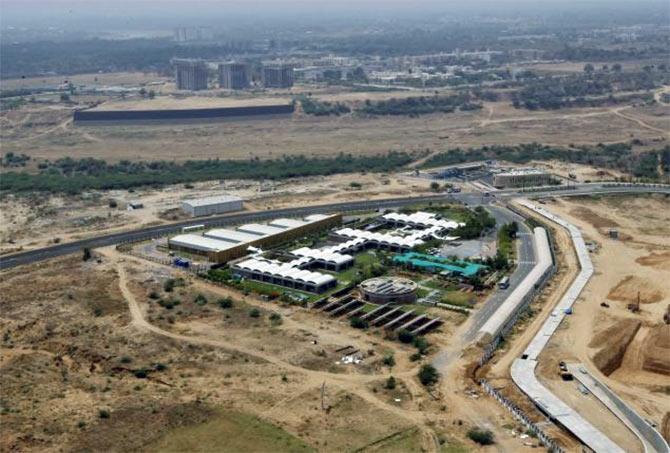 'The GIFT will create regulatory crisis for RBI, Sebi'
Percy Mistry, chairman of the committee which drafted the report on developing Mumbai as an International Financial Centre, has opposed Narendra Modi government's proposal of following Gujarat's GIFT City model in Mumbai without regulatory ring-fencing and basic infrastructure.
Replying to a query on promotion of GIFT City, near Ahmedabad and Mumbai, as IFC during Make in India Week last week, Mistry said this kind of emotive exuberance is obscuring the fundamental underlying policy failures and foundational deficiencies in the Indian economic and financial system with advertising slogans and mega events that distract attention from real problems.
"The GIFT is just another Modi vanity project like Make in India, Digital India, Clean India, Connect India, Support Start-ups and all the other slogans and schemes that have become gospel over the last few months.
GIFT is a non-starter; unless, of course, many arms are sorely twisted and domestic as well as foreign financial institutions are forced to do things that they really should not be doing (like leasing space in GIFT which is going to be left empty for a very long time), in order to please the authorities to avoid awkwardness in their daily business and tax dealings," he said in an email, responding to a query.
During Make in India Week, both Maharashtra Chief Minister Devendra Fadnavis and Gujarat Chief Minister Anandiben Patel tried wooing investors to their respective IFCs -- triggering a competition of sorts between Mumbai and GIFT City.
Mistry, however, said that given the problems with regulations in India, and the manner in which any opening for regulatory arbitrage (especially in the financial system) is instantly exploited, this kind of approach may lead to chaos.
"It will be the kind of madness that the RBI will not be able to contain or manage.
"Neither will Sebi, which has many profound difficulties of its own, be able to handle this.
"The RBI has not been able to manage even its own simple business of banking regulation/supervision. Its gross regulatory/supervisory failures from 2010 onwards are now visible for all to see, in the egregious level of non-performing assets that have emerged in the state-owned banks," he said.
"What was the RBI doing when the SOBs were reporting huge fictitious profits and paying out large amounts of dividends and taxes which they should have retained to meet their provisioning and capital needs?
"These gross failures of the RBI are now being covered up by draconian, but hopelessly belated, measures for accelerated provisioning and write-downs which are over-stretching the fragile balance sheet elasticities of all public banks.
"And this (is happening) at a time when the government's capacity to recapitalise them is in serious question.
"It amazes me that people still think the RBI is doing a great job with a great Governor who should have seen the rot in bank portfolios immediately upon taking office three years ago," he said.
Mistry said things at market regulator Sebi are also in bad shape.
"Though its ambitions are commendable, its capabilities are severely limited.
"Its management and staff capabilities are already hopelessly over-extended as it attempts to deal with too many issues of malfeasance by too many players on too many fronts all at the same time.
It seems unable to pick and choose its battles carefully and fight them to win even to the very bitter end," Mistry said.
He said neither of the two regulators will be able to deal effectively with arbitrage problems which GIFT will generate.
In 2007, the MIFC report had explicitly argued against the emergence of an onshore 'Offshore Financial Centre' or OFC in India like Dubai, the Cayman Islands or Mauritius.
"Yet, that is precisely what GIFT aims to do. To add to that nonsense, the door has been opened to having several quasi-GIFTs in different parts of the country in which financial institutions can operate in an offshore financial regime which will be differently regulated from the domestic regime," he said.
"We have a two-thirds open, one-third closed capital account; and a partially tradable currency with an exchange rate determined by a (badly) 'managed' float. Retaining such a daft system, and trying to offset its many disadvantages and limitations of that 'dog's breakfast' by creating loopholes through absurdities like GIFT is hardly rational or logical," said Mistry.
But because Modi created GIFT, everyone now wants to come up with ideas on how to make it work, he said.
"That only confirms the notion that India is inhabited by far too many unctuous, sycophants vociferously competing with one another in claiming how brilliant GIFT is and how it can be made to work.
To my mind, the opposite is true: GIFT is perhaps the perfect physical manifestation of the story about the Emperor having no clothes, which a small child could see, but sycophantic courtiers could not," he said.

On making Mumbai an IFC, Mistry said Fadnavis never misses an opportunity to trumpet how much he is doing to make Mumbai a pre-eminent IFC.
"But from what he says, I can see he has no idea of what an IFC really is or what it really does.
Like every other CM before him, Fadnavis seems to think that an IFC is a smart set of buildings in which nicely dressed people go to work and do all kinds of complicated things involving incomprehensible mathematics, about which he has got no clue," said Mistry.
According to Mistry, who earlier worked with the World Bank, Mumbai is not likely to become a functional, viable IFC any time soon for two reasons: "Firstly, the Indian financial system is not evolving the way it should; i.e. in consonance with India's rapidly growing needs for sophisticated finance and financial engineering; nor is it developing the characteristics which would enable an IFC (whether in Mumbai or elsewhere) to be globally competitive and viable.
Secondly, the local politics that influences Mumbai's ability to function as a cosmopolitan global city -- which is a fundamental pre-requisite for any IFC to be viable and usable -- are unconducive to its becoming the kind of city that global citizens from all around the world would ever feel totally comfortable and secure living in."
He said the rise of intolerance, mindless exertion of politically motivated violence, bans/constraints on performances by foreign artistes, foods, bars, restaurants etc in Mumbai are few reasons why the city is unable to become an IFC.
Image: Gujarat International Finance Tec-City spread across 880-acres. Photograph: Amit Dave/Reuters