Raghu Krishnan profiles the man in the eye of the storm at Infosys.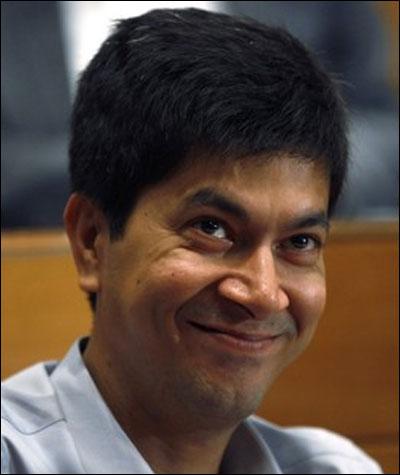 An ugly fight has broken out at Infosys, the country's most respected info-tech company, between the founders and the management led by CEO Vishal Sikka.
The bone of contention is the severance package of Rs 17.38 crore paid to former CFO Rajiv Bansal (pictured left), which was equal to his 24 months' salary. This was excessive, the founders said, and wondered if this was "hush money", though an audit by a top law firm has ruled that out.
The founders and the Infosys brass have played down the difference of opinion, and many have come out in the open to insist all is well. But the man in the eye of the storm, Bansal, has been conspicuously silent.
Just who is Bansal?
A chartered accountant, Bansal, 43, grew up in Delhi and did his BCom from Mumbai -- he topped the class.
His first job was with Tata Technologies.
Before joining Infosys in 1999, when the company listed on Nasdaq, he also worked with Cable & Wireless and then with ABB in Bengaluru.
At Infosys, for over a decade, Bansal implemented the processes that his former bosses, T V Mohandas Pai and V Balakrishnan, both NR Narayana Murthy's lieutenants, had adopted and which had held Infosys in good stead even when growth had slowed down. The conservative accounting policies and the disclosure norms that Infosys practised were the "gold standard" in the industry.
Conservatism flowed down from the top. Murthy insisted that "profit is an opinion, cash is a fact".
The frugality of the founders and the stringent disclosures demanded by the US Securities and Exchanges Commission made the company slow. The joke went that "as long as you respond to an email in 24 hours, you will not be questioned".
Sikka, a US citizen and a former SAP executive, felt this needed to change.
He set an ambitious revenue target of $20 billion by 2020, almost twice this year's revenue. He wanted results and believed that processes could wait.
This was when, say insiders, the clash began.
"Sikka wanted someone to align with his goals than bring in processes that delay decision-making," says an Infosys executive.
As differences escalated, Bansal quit in October 2015 with a golden handshake that triggered cries of "bad corporate governance" from the founders led by Murthy.
After paying Rs 5-odd crore, Infosys suspended his severance pay.
From Infosys, Bansal joined ANI Technologies, the company that runs ride-hailing app Ola, in November 2015.
"I am what I am today because of Infosys, and I would always remember that," Bansal said in an interview in March 2016.
Moving from an institution that was led by rules and process, he wanted to help create another institution called Ola, which would be bigger than Infosys.
But he struggled, as others at the startup, funded by investors such as Softbank, found his approach bureaucratic. There was a clash of cultures, says an insider.
And Bansal, who many describe as a "nice guy", resigned in February.
Throughout the controversy, Bansal maintained a stoic silence. But that's the way he is: a reserved person who keeps to his work.
Some remember him as being an approachable boss.
In an interview to Business Standard after joining Ola last year, he allowed a peek into what was playing on his mind.
"The fact is that it (leaving Infosys to join Ola) was not just a job change, but a career change. Infosys gave me global platform and a lot of recognition. Leaving that is not easy."
"When you change your career line or change your job, you look at [the] next five years' potential. I think we Indians fail to figure [that] out when to quit," he added.
Bansal is standing at that juncture of change once again.