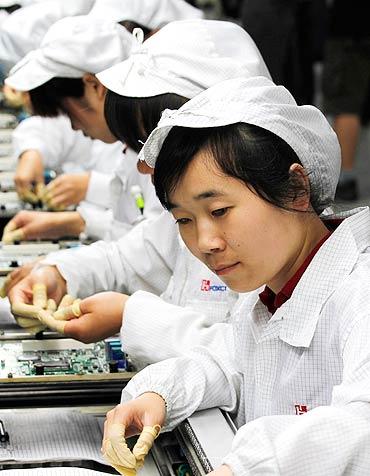 Foxconn, the Taiwan-based contract manufacturer of mobile phone parts, will suspend its operations at the facility near Chennai from December 24, following a change in manufacturing requirements of clients in the country.
"We can confirm that our India operation, FIH India Pvt Ltd, will be suspending all operations at our manufacturing facility in Chennai effective December 24, 2014," the Taiwan-based company said in a statement.
The action was being taken due to a change in the Chennai facility customer base and a related change in the manufacturing requirements of our customers in India, it said.
"This action also related to a restructuring being carried out of our India operations that is designed to ensure that we are able to meet both the current and future needs of our customers in that important market," it said.
Noting that about 1,700 employees would be affected by this move, the company said it was working with the government and the "relevant" labour unions to ensure that "this action is carried out in a manner that follows all relevant laws and regulations and is fair."
"We will continue to consider investments in manufacturing operations in India when they make sense commercially and when they are consistent with the needs of our customers," the company said, adding the details regarding new investments would be announced once decisions were made and all the necessary approvals were received.

Photograph: Reuters