Hamsini Karthik on why investors need to look out for Johnson Controls-Hitachi, Voltas, Blue Star, Whirlpool...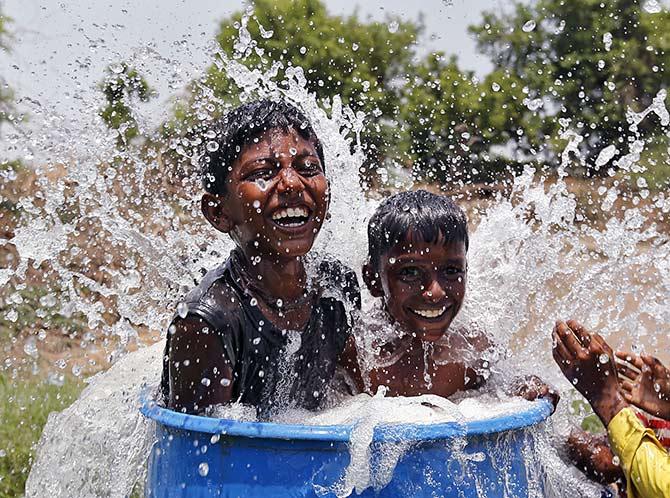 The past week belonged to consumer durables stocks such as Voltas, Blue Star, Whirlpool of India, Johnson Controls-Hitachi Air Conditioning India and Symphony.
These are trading at their all-time highs, and the Street is convinced that there's more steam left in the rally.
These stocks started gathering momentum in late February, when it became apparent that demonetisation hiccups were perhaps well behind them.
But what has propelled the rally is the onset of summer and, more importantly, the high probability of an extended summer.
The recent shift in preference among institutional investors from consumer staples to durables also augurs well for these stocks.
The first on the list is Blue Star, which has seen an all-round improvement in business.
Even in a tough December quarter, its room AC business grew 47 per cent, outpacing the 25 per cent industry growth.
Ability to constantly improve its market share in this segment, from 10 per cent a year ago to 11.5 per cent now, is another positive.
A gradual recovery is also expected in its projects business, thanks to rising enquiries from hospitals and educational institutions.
Operating margins may, however, be under pressure in the next six months, given the promotional activities undertaken for relatively newer launches, such as water and air purifiers and air coolers.
Investors can consider one of the two multinationals in this list: Johnson Controls-Hitachi Air Conditioning.
Shift in preference from normal ACs to inverter ACs strengthens the investment pitch for Hitachi. It is among the innovators of inverter ACs.
The June quarter tends to be the best for the company, with operating margins of over 11 per cent (best in the industry). But, the momentum cools off in the October and December quarters, when the demand for ACs tapers, and picks up again in the January quarter.
However, Hitachi is strengthening its exports and projects business to offset this cyclicality in the business.
The market leader in air coolers, Symphony, is a clear play on semi-urban and rural demand.
A minor change in product strategy helped it wade through demonetisation without undertaking price cuts.
It has more than 87 models of air coolers, thus ensuring that it meets all customer needs.
A likely shift in consumer demand towards branded products after the introduction of goods and services tax in FY18 bodes well for Symphony.
While its entry into the industrial cooling business is relatively new, the recent acquisition of Chinese air cooler brand MKE should give it a competitive edge.
The next company on the list is Voltas.
While there were questions on whether the company was sustaining its market share at the cost of operating margins after demonetisation, the exit of Korea's LG from the fixed-speed AC is a blessing in disguise.
LG's exit would help Voltas improve its presence in north India, as it was the former's strong hold.
This improved outlook for Voltas' unitary cooling products segment, its mainstay accounting for about half of its revenues, is essential as the industrials business segment may take time to recover.
The second multinational on the list is Whirlpool, a play on the home appliances segment, with over half of its revenues coming from refrigerators and a tenth from ACs.
Both segments witness high demand starting from January, with sales peaking by June.
As refrigerators and washing machines are manufactured in the country, operating margins are the highest in these segments, compensating for relatively weaker margins in ACs and microwaves given that they operate like trading businesses.
Market leadership in refrigerators and dominance in washing machines, with products across all price points, are positives for Whirlpool.
Photograph: Amit Dave/Reuters