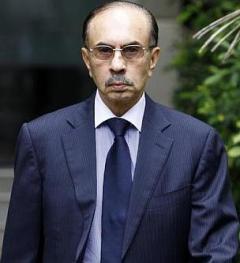 When Godrej Group Chairman Adi Godrej celebrated his 70th birthday two years ago, his brother and Godrej Agrovet chairman Nadir Godrej wrote a poem in his honour.

It was a candid account of the man and how he had steered the 115-year-old group (now 117) since he stepped into the family business in 1963.

A part of the poem was on the group's joint ventures:

But then we thought that we should seek
Strong partners or we would stay weak.
And, so we formed the odd joint venture,
Which proved to be quite an adventure.
We learnt a lot and that's for sure
It helps us still to endure.
But when we got our business back,
We were rather off the track.

Nadir's assessment of the $2.25-billion (Rs 13,500-crore) group's tryst with joint ventures couldn't have been more accurate.

There were more failures than successes on this front, prompting the city-based group to pursue an aggressive acquisition strategy in recent years, in its search for growth.

Through the past two decades, the group forged eight joint ventures with foreign companies.

The only one to have survived is the six-year joint venture with US-based Tyson Foods.

Godrej Agrovet, the 49 per cent shareholder in the joint venture, is said to have a strong working relationship with Tyson.

And, the two brands promoted by the joint venture company Godrej Tyson Foods -- Real Good Chicken and Yummiez -- were brought into the company by the Indian partner.

Godrej Agrovet, said those in the know, never felt its brands were given short shrift by Tyson.

Both partners know what they bring to the table -- while Godrej has a supply chain and back-end technology, Tyson brings its food processing and product development know-how.

Clearly, this hasn't been the case with other joint ventures of the Godrej Group.

Consider Godrej's high-profile soaps joint venture with Procter & Gamble in 1993.

The entity fell apart in three years, following differences over P&G's treatment of Godrej brands, including its popular Cinthol and mass-market brand Ganga.

Godrej had transferred the distribution and marketing of its soaps portfolio to the joint venture, retaining only manufacturing -- of its own soaps and P&G's brands.

To ensure there was no deviation, Godrej also sold its detergent brands Trilo, Key and Ezee to P&G.

Eventually, the three brands found their way back into the group when Godrej acquired these from Cussons India (which had bought these from P&G) in 1998.

Despite all efforts to stay focused, Godrej soon discovered P&G wasn't really interested in the soaps business.

As Hoshedar Press, a former Godrej Group executive who was also part of the Procter & Gamble Godrej board, says, "Procter's attention was shifting from soaps.

"They had identified laundry, hair-care, paper products and pharmaceuticals as their core areas of operation.

"Clearly, the soaps segment wasn't critical to them, whereas we were soaps-led."

It was only a matter of time before both parties parted ways, ending a three-year tenuous relationship.

In 2000, Godrej ended its Pillsbury alliance, formed to market wheat flour and other products.

In 2001, Godrej snapped ties with GE (in the appliances space).

And, once again, the issue related to mismatched expectations. While both GE and Godrej had good product lines, sales offtake was a contentious issue.

More break-ups were in store.

It severed ties with Swedish firm SCA Hygiene Products in 2009, Malaysia's IJM Plantations in 2011 and Hershey's in 2012.

IJM was believed to have lost interest in the alliance three years after the joint venture was signed, which left Godrej with no choice but to buy out its majority stake in the venture.

In the joint venture with US chocolate maker Hershey's, the two companies weren't on the same page in promoting the business.

Godrej was keen on greater cooperation and participation from Hershey's in terms of product launches, given it had put in all its confectionary (Maha Lacto and Nutrine) and beverage (Jumpin and Sofit) brands into the venture.

But Hershey's was more calculated in its approach, launching only one product, Hershey's Syrup, in the Indian market in the five years since the joint venture was signed.

After months of speculation of an imminent break-up, Hershey's acquired the 49 per cent stake held largely by Godrej Industries in September 2012.

Some unions, however, lasted longer.

The joint venture with US consumer goods major Sara Lee thrived for 15 years.

While Godrej's household insecticide portfolio was vested in the joint venture, Sara Lee brought Brylcreem, AmbiPur and Kiwi shoe polish to the table.

Eventually, Sara Lee sold these brands to different companies to focus on its core foods business.

This led to the termination of the joint venture and acquisition of the 51 per cent Sara Lee stake by Godrej Consumer Products Ltd in 2010.

"Sara Lee was moving out of non-core businesses.

"Plus, the contribution of its brands in the joint venture was not substantial," said Press, who retired as vice-chairman of GCPL in 2010.

"At some stage, a call had to be taken on the future of the joint venture."

As Nadir Godrej alluded to in his ode to his brother Adi, failed marriages appear to have made the group wiser.

Through the past decade, the group, through GCPL, made about 10 acquisitions, ramping up its turnover three times.

Now, it proposes to increase revenue tenfold in the next 10 years, through all group companies -- GCPL, Godrej Properties, Godrej Agrovet, Godrej Chemicals and retail arm Nature's Basket.

As Nadir's poem says:

The developing world's our playground
A strategy that we find sound.

For now, the century-old group's transformation to a new-age giant seems to be on track.
Image: Godrej group patriarch Adi Godrej. Photograph: Danish Siddiqui/Reuters