Launched this April, the FCG business will end the year with a turnover of Rs 500 crore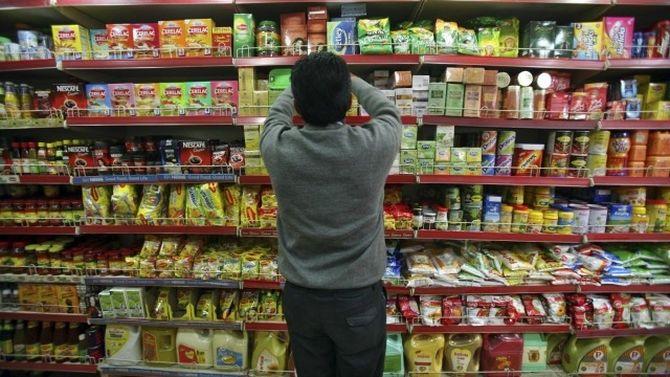 The RP-Sanjiv Goenka Group has ambitious plans for the newest entrant in its business, fast-moving consumer goods (FMCG).
Launched this April, the business will end the year with a turnover of Rs 500 crore (Rs 5 billion).
Over the next five years, the target is annual turnover of Rs 7,000-10,000 crore (Rs 70-100 billion). Growth will come through a mix of organic and inorganic options.
At the hub is a plan to rebrand and include Spencer's private label business in the portfolio.
"We will take the Spencer's private label national. We haven't decided but it could be rebranded e-Vita," said Goenka.
Spencer's private label portfolio has processed food, beverages, health & beauty, home care and staples.
The size of the private label business is about Rs 300 crore. Goenka says distribution for these products and the existing Too Yumm, and e-Vita ones would be the same.
"Once I have a presence in modern trade and general trade, whether I am distributing 10 products or 1,000, it doesn't make a difference. My cost is the same," he said.
At present, Too Yumm and e-Vita have a presence in 3,000 outlets, the bulk of which is accounted for by modern trade.
The FMCG foray happened under the Guiltfree platform with the Too Yumm brand. Too Yumm sells quick snacks such as wheat thins and fox nuts.
The FMCG basket expanded in July when the group acquired a 70 per cent stake in Rajkot-based Apricot Foods which owned the e-Vita brand; it came with 47 products.
Goenka said more acquisitions would follow. "If we acquire regional brands that are successful, we can take these national. So, that gives us the base, product acceptance, and then we can scale it nationally."
But, he added while that would be the principal philosophy, it would not be the only one. "It doesn't mean we are not going to acquire a national brand. We could well do so."
Additionally, new manufacturing facilities would be set up. But, the focus would always be on growing the businesses profitably.
That doesn't only hold for FMCG but is the underlying philosophy for the entire group.
"We finished last year with revenue of Rs 20,529 crore and net profit of Rs 1,652 crore, an increase of 46 per cent over the previous year, which is very significant. The market cap was Rs 20,675 crore, Ebitda (operating earnings) Rs 4,231 crore and a debt equity (ratio of) 1.29:1," said Goenka, adding, "That sounds good."
The focus on returns is one reason why Goenka is sceptical of bidding for stressed assets.
"We have looked at stressed power assets; we haven't found anything that is interesting enough. For us, it's not about vanity, it's not about how many megawatts of capacity I have, it's about how much money I can make from the megawatts.
If it's a loss-making asset, I must see the prospect of it turning around very fast. So, when we invest in distribution franchises in Rajasthan, you will make losses for 12 months, 18 months, 24 months but we know in a year two or we will start making money," he explained.
For Spencer's Retail, too, Goenka said, "We will grow, we will expand but in a profitable manner."
At Phillips Carbon Black, buzzing on the stock exchanges, three things have happened in the reinvention of processes and operations that have resulted in big savings.
"We have been able to work on inefficiencies. The second is to focus on speciality blacks. So, this year, we have done 20,000 tonnes of speciality blacks, compared to less than 2,000 tonnes two years ago. Speciality blacks give more margins and so, profits will increase," said Goenka.
There will also be acquisitions in other businesses. This year was the last game for Goenka's Indian Premier League team. Asked whether, he was in talks with other IPL teams for acquiring stake, Goenka's response was a crisp 'Yes'.
He would not elaborate or discuss names. So, too, for the media and entertainment industry. In talks but till signed, it's not a done deal, he said.
Photograph: Mukesh Gupta/Reuters