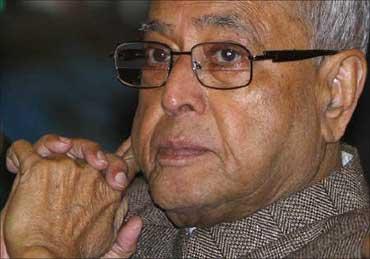 As the US keenly watches the pace of financial sector reforms in India and struggles with the euro zone to put its economy back on track, finance minister Pranab Mukherjee will visit that country later this month.

The four-day tour, beginning September 21, includes World Bank-International Monetary Fund meetings, as well as interactions with investors.

Mukherjee's visit will start with the eighth Annual India Investment Forum meeting in New York.

The finance minister would address a gathering of investors, business leaders, representatives from government institutions and fund managers on investment opportunities in India, officials said.

Mukherjee has time and again been saying that India is a safe bet for investors, as it is among a few economies witnessing robust growth.

But he may face questions about financial sector reforms in India, most of which in the form of bills are pending in Parliament.

These issues were raised earlier by the US, for instance when Secretary of State Hillary Clinton visited India in July.

The Indian delegation, comprising top government officials and industrialists, will also attend the US-India Business Council, which aims at strengthening two-way trade and commercial ties between the two countries.

India and the US had earlier this year agreed to push bilateral trade to $100 billion in five years.

In Washington, Mukherjee will attend the meeting of Commonwealth Finance Ministers.

The meeting, which takes place amid global economic and financial uncertainties, will address key contemporary challenges for the Commonwealth's membership.

On September 22 in Washington, he will lead a high-level business delegation at the US-India CEO Forum, co-chaired by Tata Sons Chairman Ratan Tata.

The forum comprises 10
CEOs from each country.
The forum, constituted by former US President George W Bush and Prime Minister Manmohan Singh in July 2005, has identified six areas for cooperation between the two countries.
These are physical infrastructure development, energy security, human resource development, technology exchange, trade and industry promotion and intellectual property protection.
Mukherjee will also attend a meeting of finance ministers of BRICS countries (Brazil, Russia, India, China, South Africa) and hold bilateral meetings with World Bank president Robert Zoellick, International Monetary Fund managing director Christine Lagarde and top dignitaries of Bangladesh, Sri Lanka and Bhutan.
On September 23, he will take part in the annual meeting of the World Bank and the G20 finance ministers and central bank governors meeting.
Mukherjee will attend the IMF Annual meeting on September 24 before leaving for India.
The finance minister is likely to be accompanied by department of economic affairs secretary R Gopalan and joint secretaries Venu Rajamony and Alok Sheel, chief economic advisor Kaushik Basu, Reserve Bank of India governor D Subbarao and some other officials from the government.
The annual Fund-Bank meetings assume importance as the major global countries look for ways to revive their economies. Zoellick recently warned that the global economy was stepping into a new danger zone as growth slowed and investor confidence weakened.
IMF had lowered its forecast of global economic growth marginally to 4.2 per cent for this calendar year, from the earlier estimate of 4.1 per cent.
It also sharply scaled down its forecast for US economic growth to 1.6 per cent in 2011 from the earlier projection of 2.5 per cent.
The Fund also trimmed the euro zone GDP forecast to 1.9 per cent this year from the earlier projection of two per cent.