Mudar Patherya lists companies whose shares can bring on Xmas cheer for investors.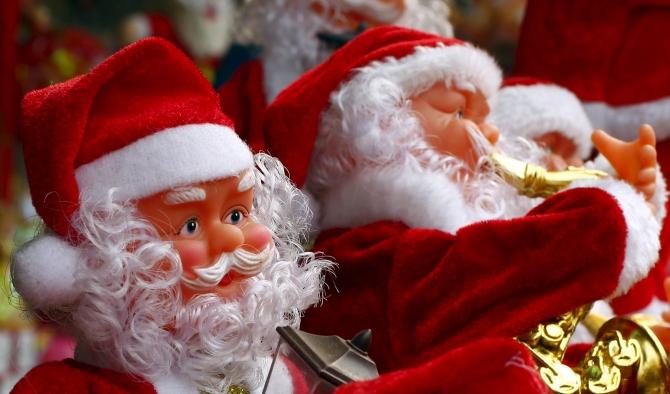 Over the past couple of weeks, I have been sweating with the calculator to find my Christmas gift. I won't say all the companies I have listed are bargains (some are not) but they still need to be salaamed for their second quarter performance.
1. Jindal Saw
On the face of it, no significant change in the status quo. It reported a standalone Ebitda (earnings before interest, tax, depreciation and amortisation) of Rs 270 crore in the second quarter of the current financial year.
Assuming it maintains this run rate across subsequent quarters, it should report an Ebitda in excess of Rs 1,000 crore, against prevailing market capitalisation (m-cap) of Rs 4,000 crore.
The two probable triggers that could re-rate the company: Revenue increase and decline in interest outflow, a good incentive to stay plugged in.
2. Godawari Power & Ispat
It is riding a sectoral rebound. Consolidated EBDT (earnings before depreciation and tax) has strengthened dramatically in the past four quarters -- from Rs 8.01 crore to Rs 8.55 crore to Rs 72 crore to Rs 87 crore.
Interest outflow has been relatively steady, around Rs 66 crore, across the quarters.
The m-cap appears modest at Rs 590 crore; those who buy into the counter would be happy for another unmistakable flash: Increased revenue and decline in interest outflow (quite like dear J Saw).
3. Dixon Technologies
Not the kind of company -- manufacturing consumer electronic products -- that one would give a second glance because of the sector, but wait, look at the numbers.
It is not the sharp revenue growth from Rs 430 crore in the first quarter of FY17 to Rs 685 crore in the first quarter of FY18 to Rs 877 crore in the second quarter that surprises.
It is something else that evokes a wow: Interest outflow was around Rs 3.5 crore against an Ebitda of Rs 37 crore in the second quarter, indicating even as the sector might be challenging, the company's operating model could well be the stuff they write case studies about. M-cap: Rs 3,800 crore (oh no!).
4. Automotive Axles
Just when one would have assumed the automotive sector would have affected the balance sheets of most ancillary companies, here comes this surprise.
Ebitda increased from Rs 30 crore to Rs 41 crore across successive quarters. Interest outflow is down to a few lakhs, which means only one thing: The company is virtually swimming in cash, at a time of sectoral take-off. M-cap: Rs 2,000 crore.
5. MIRC Electronics
The only reason to review this company for the second time in the past few months is perseverance.
When no one would have touched an Indian electronics product company, MIRC has surprised: It has beaten its March quarter record Ebitda performance of Rs 15.93 crore with Rs 16.84 crore in the September quarter.
My first cross-check: Is the company 'buying' revenue? The fact that interest outflow continued to be below Rs 5 crore for a third successive quarter indicates a compelling story brewing here.
Photograph: Amr Abdallah Dalsh/Reuters
Mudar Patherya is a stock market writer, tracking corporate earnings and investor psychology to gauge where markets are not headed.