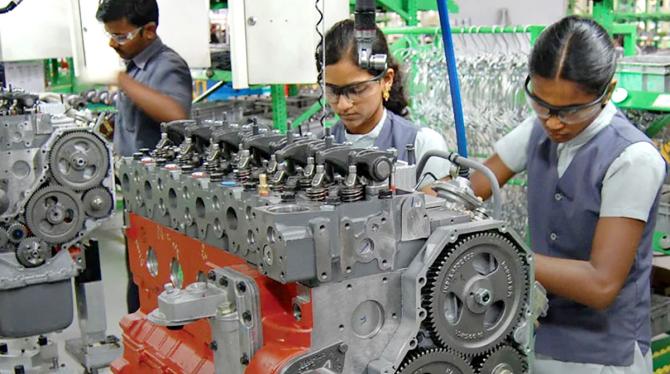 Cummins India will soon start producing fuel-agnostic engine systems at the Tata-Cummins plant in Phaltan in Satara district of Maharashtra, senior officials at Cummins India said.
The firm will start limited production by the end of 2023 and mass production will likely begin by 2024, the officials said.
Fuel-agnostic engines can run on hydrogen, bio-diesel, ethanol, CNG, LNG, and other fuels.
A diesel truck can be retrofitted with a fuel-agnostic engine by swapping its existing diesel engine, said Ashwath Ram, managing director of the firm.
"Most of the investments have happened at the site, and these qualify for the PLI (production linked incentive) scheme as well," he added.
Cummins has tied up with Tata Motors to power the latter's commercial vehicles with the fuel-agnostic engine systems.
"Engines have been fitted in prototype vehicles, which are now ready for field-testing, mileage testing, etc. These can then go for commercial production," Ram said.
Cummins is also in talks with other CV original equipment manufacturers in the country.
Apart from Tata Motors, Ashok Leyland and Daimler Trucks too are focusing on hydrogen-powered trucks. According to industry estimates, hydrogen-powered trucks and buses will emerge as a commercially viable, self-sufficient green solution in the next five years.
Initially, Cummins will start with a LNG-hydrogen platform and then make the CNG-hydrogen platform.
Once the hydrogen fuel infrastructure matures in the country, it will start producing hydrogen variants of these engines, said Anjali Pandey, chief operating officer of Cummins India.
She added that India will become a sourcing hub for Cummins globally, especially for the B6.7H engine platform.
"The US and the EU are trying to reach net zero emissions faster than most countries, and thus we expect demand from these markets," Pandey said. Cummins has manufacturing hubs in India, the US, and China.
Ram said large fleets of medium and heavy commercial vehicles (MHCVs) will initially adopt the hydrogen-powered engine systems on some routes.
He added that grey hydrogen (92-97 per cent purity) is a by-product of petroleum production, and thus such routes may be viable near refineries.
"We are around 5-10 years away from higher adoption of hydrogen-powered engines. India has set a goal of net zero emissions by 2070," he said.
With its Destination Zero strategy Cummins aims to reduce its products' greenhouse gas (GHG) and air quality impact and reach net-zero emissions by 2050.
The group will pursue a dual-path approach -- acting today to reduce emissions from internal combustion engines while simultaneously investing in new, zero-emission products.
The firm also plans to launch electrolysers that make green hydrogen from water -- it will build one of the largest proton exchange membrane (PEM) electrolysers for GAIL at Vijaipur, Madhya Pradesh.
Ram said the cost of a hydrogen fuel engine system would be 1.5-times that of a diesel engine, while a fuel cell electric vehicle system would cost five times more than diesel engine systems.
Hydrogen-powered engine costs will reduce as storage tanks are mass produced, he added.
According to a NITI Aayog report released in June 2022, hydrogen demand in India could grow more than fourfold by 2050, representing almost 10 per cent of global demand.
In the longer term, steel and heavy-duty trucking are expected to drive demand growth, accounting for around 52 per cent of total demand by 2050, it said.
A KPMG report released last year said the costs of green hydrogen in India could fall by half to as low as Rs 160-170 a kg by 2030.
At present, green hydrogen production costs between Rs 320 and Rs 330 per kg in India.
Production costs of grey hydrogen are lower.
In February 2022, India launched the Green Hydrogen Policy, which aims to raise domestic production to 5 million tonnes per annum (MTPA) by 2030, which is half of the EU's target of 10 MTPA.
At present, hydrogen is used in India mainly as industrial feedstock and in refineries.