Dollar's strength and falling crude oil prices force downward revision of 2015 growth forecast.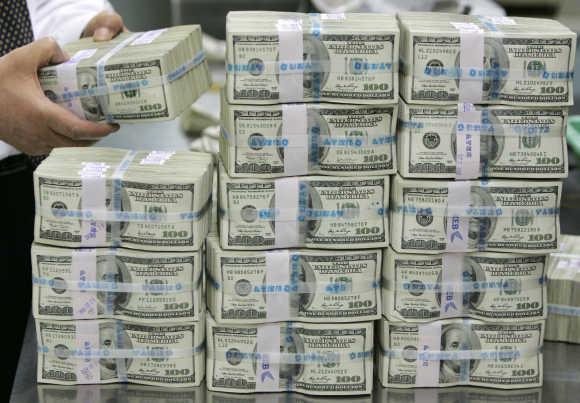 The US Federal Reserve's Federal Open Market Committee (FOMC)'s meeting on March 18 concluded without any fireworks.
Equity markets chose to focus on the dovish start of the commentary, which started by saying economic growth had moderated 'somewhat'.

The strength of the dollar and a sharp fall in crude oil prices will impact US economic growth in 2015; hence, growth estimates have been revised from 2.6-3 per cent to 2.3-2.6 per cent.
The big takeaway from the meeting is that the Fed is no longer going to give any guidance before effecting a rate hike after April.
Economists believe the Fed has been preparing markets for an era of 'no guidance' and which seems to be the highlight of the March statement. So, although a rate hike has been ruled out in April, anytime after that is a possibility.

Given the weakness in growth, the consensus view has now shifted the possibility of a hike to September, if it happens in 2015. So, before every FOMC meeting, financial markets will see volatility.
In a March 11 note, Morgan Stanley said the Fed would look at its first rate hike in early 2016. The FOMC has also pared its rate hike projection path, with 13 members (up from eight in December) expecting rates to remain below one per cent by the end of 2015.

Nirmal Bang's Nikhil Gupta is all for first impressions and that the dovish first few words of the Fed's statement has set the tone for the markets.

Based on this, he expects the Fed to postpone a rate hike to 2016. CapitalVia Global Research's Vivek Gupta believes a rate hike could happen in September rather than June, once the Fed is more confident about inflation and labour market conditions.
Whenever the Fed delivers the rate hike, markets are expected to see some turmoil. According to fixed income experts, foreign investors would pull out $4-5 billion soon after a rise.

Given that India remains a favourite equity market for foreign investors, portfolio funds are expected to continue to flow, which would support the rupee in case there is flight of capital to safety.

Fifty-eight per cent of investors polled by Bank of America Merrill Lynch expect the rupee to be 60-65 to a dollar. Only 38 per cent of investors expect the Indian currency to cross 65 in 2015.