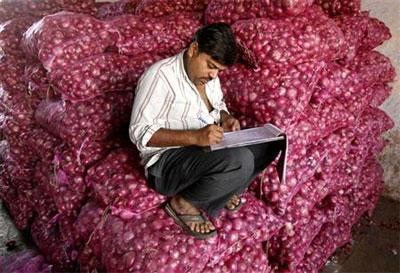 The Centre, along with the state governments, is planning to intervene in the market to purchase onions directly from farmers in Maharashtra and other places where prices have slumped sharply in the last few days due to bumper harvest.
Officials said a decision to this effect was taken a high-level meeting attended by Transport Minister Nitin Gadkari, Agriculture Minister Radha Mohan Singh, Food Minister Ram Vilas Paswan and a host of top politicians from Maharashtra, including former agriculture minister Sharad Pawar.
After the meeting, it was decided that agriculture ministry would prepare a blueprint for purchasing onions directly from farmers and the expenditure on damages would be shared equally between the Centre and state governments.
The food ministry had purchased 15,000 tonnes of onions directly from farmers out of a target of 20,000 and is wary of buying more as there are no takers for the purchased crop.
Onion prices in the wholesale markets of Nashik, Nagpur and Pune along with some other parts of the country have dropped by around Rs 90 per quintal in the past one month to around Rs 500-550 per quintal due to bumper supplies.