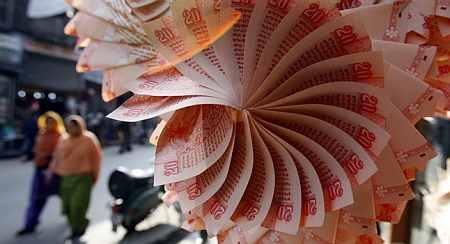 The Indian government on Monday forecast annual economic growth to accelerate to 7.4 percent in the fiscal year ending in March 2015 after Asia's third-largest economy grew 7.5 percent in the quarter to end-December.
The latest estimate compares with a revised 6.9 percent growth a year earlier and is based on the new formula the statistics department has started using to measure the economy.
Jyotinder Kaur, Principal Economist, HDFC Bank, New Delhi
"There is clearly the need to look at the credibility associated with these numbers. Nothing on the ground has substantially changed to show that we are out of the trenches.
"My view is that the economy is certainly making its way up, but none of the other indicators suggest that we have completely made our way out of the ditches.
"The (RBI) governor has clearly said that they are still working with the old (GDP) series and will have to look at how this pans out.
"I think there is still enormous pressure on the government and the budget to support growth within the fiscal consolidation framework it has placed for itself."
A Prasanna, Economist, ICICI Securities Primary Dealership Ltd, Mumbai
"There are some issues with the GDP data which need to be addressed by the government.
"The government has itself been saying that tax collections are slow due to a slowdown in the economy, but the other wing of the government is saying that GDP growth has been good. That means either one part of the economy is not taxed or there is an issue with the data.
"The RBI has to take this number at face value and it is very difficult to expect rates to go down sharply. We expect one more rate cut in April but beyond that, it is unlikely now."
G. Chokkalingam, Founder, Equinomics
"This will be taken with a pinch of salt as new numbers are coming at the bottom of growth cycle.
"Fiscal targets, if met under the new method, would be not taken positively. There would be nervousness given it dims the prospects for rate cuts. Bank shares, bonds would react negatively."
Saugata Bhattacharya, Chief Economist, Axis Bank, Mumbai
"After this number, the RBI will need to understand the dynamics of the high GDP numbers.
"This pushes back the timeline for rate cuts. Any hope of an off-cycle rate cut in March, even if the budget is consistent with low inflation-driven fiscal policy, does not exist now.
"Now with such high GDP number, the CPI inflation is expected to also go up."

(Reporting by Suvashree Dey Choudhury and Abhishek Vishnoi, and Swati Bhat)