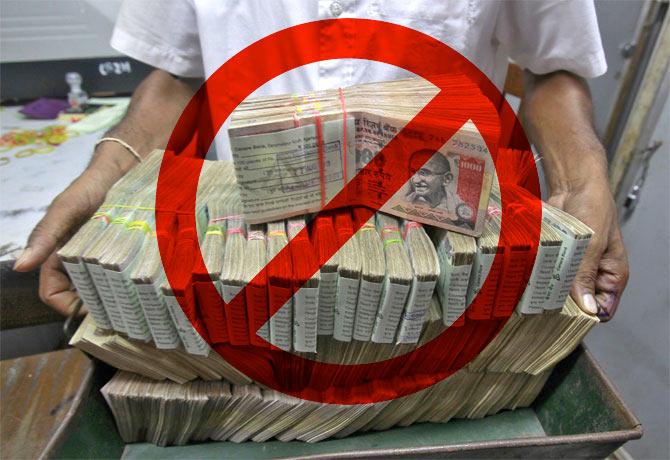 Welcoming India's decision to withdraw high-value banknotes as part of its fight to root out black money, the European Union has said ridding the financial system of 'black component' and bringing transparency will strengthen Indian economy and spur growth.
Calling India one of the most attractive investment destinations globally, vice president of European Commission Jyrki Katainen also complimented the government for its resolve to roll out the Goods and Services Tax soon, besides many other reform measures.
On a visit here to push for resumption of stalled negotiations on EU-India Broad-based Trade and Investment Agreement, he said fight against tax dodgers and those having ill-gotten wealth will pay dividends and strengthen the financial system.
"All the measures which will reduce black economy are always good for people and the financial system," he said on government's decision to withdraw Rs 500 and 1,000 notes.
Referring to GST, he said it is a 'very ambitious' and 'very necessary' move to reform the tax structure in India that will further boost confidence of investors in India.
The top EU official said investors from European countries are bringing 'white clean money' to India and there was a need to resume the talks on Broad-based Trade and Investment Agreement, popularly known as free trade agreement.
The EU is one of India's leading trade partners and the two-way commerce in goods between India and the EU was $98.5 billion (Rs 6.6 lakh crore) in 2014-15.
Katainen said flow of European investments into India is set to increase manifold if both sides were able to finalise the BTIA as it will protect the investments.
"EU investors are bringing white clean money into India and that is why the trade deal is very important as it will protect their investments," he said.
Katainen said India's existing trade and investment agreement with The Netherlands will come to an end in two weeks while similar pacts with several other EU countries will expire in coming months which will make it difficult for the European corporates to go for fresh investment in India.
He said without such pacts, the cost of capital for India will go up significantly.
As per European Union law, no member country now can go for bilateral trade and investment pact with India as the grouping is in negotiations for an EU-India BITA. By end of 2017, India's trade and investment pact with 23 countries is likely to expire.
Exuding confidence that both sides will be able to finalise the BTIA, he said India was a very attractive destination for European Union and that this year can be seen as a year of 'restart and deepening' of bilateral ties.
The BTIA talks have been stalled since May, 2013, when both sides failed to bridge substantial gaps on crucial issues, including data security status for IT sector.
Launched in June 2007, negotiations for the proposed agreement have witnessed many hurdles as both the sides have major differences on crucial issues.
In the EU-India Summit in Brussels, the two sides had failed to make any announcement on resumption of the negotiations as many bottlenecks still remain.
The two sides are yet to iron out issues related to tariff and movement of professionals but the EU has shown an inclination to restart talks.
Besides demanding significant duty cuts in automobiles, the EU wants tax reduction in wines, spirits and dairy products, and a strong intellectual property regime.
On the other hand, India is asking for granting 'data secure nation' status to it by the EU. The country is among nations not considered data secure by the EU.