Advertisers take to pitching family values and social causes, giving celebrity endorsers and flamboyance a miss. Nikhat Hetavkar reports.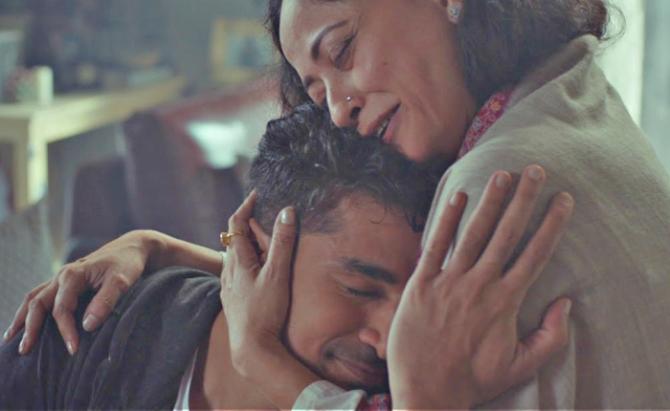 Nokia's emotional Diwali ad.
An old professor sits, visibly uncomfortable and distinctly out-of-place on a plush sofa, but is overwhelmed when a former student who has quite clearly done well for himself, goes out of his way to make his mentor feel special and makes him a cup of tea just the way he likes it.
A mother gets all teary-eyed when her son who has never enough time for her, gives her his phone and himself for an entire day.
Emotions are running high all around and the two ads, one for Red Label tea by Ogilvy & Mather and the other for Nokia, by Dentsu, are proving to be more the rule than the exception this festive season.
As advertisers go for mush and maudlin rather than celebratory, celebrity-led advertising, experts say that weak economic sentiment and small budgets are playing their hand. But at the same time, they say brands are also latching on to a universal trend where ads are getting more personal, preachy and sentimental.
This is true across categories; consumables, personal electronics, e-commerce, apparel and others are all relying on the emotive power of advertising. Doing so helps a company align its brand with distinct causes and values and thereby build a unique identity.
"Earlier, there used to be differentiation between products, now competition and technology are removing differences. Today, products, brands and technology have all become commodities. The differentiation only lies in the values that you propagate or stand for," said K V Sridhar, founder and chief creative officer, Hyper Collective.
Such advertising also helps humanise brands in an age where the personal is rapidly becoming universal.
Sridhar says that brands want to establish a framework of shared values with customers and serve a purpose in their lives. And they want to do all this differently from their competitors.
While emotional pitches are the rage, the festive season is also high on discounts and offers. This is in keeping with traditional festive season advertising as products across categories look to drive sales up.
Sandeep Goyal, chairman, Mogae Media said that advertising can be broadly divided into two streams 'theme' and 'scheme'.
"Advertising during festivals is creatively thematic but offerings are schematic. Festive advertisements have no choice but to remain focused solely on offers. Their messaging is clearly buy, buy, buy. It is a window of opportunity to be maximised in a short time which leaves little scope for creativity," he adds.
Brands must be cautious about such advertising however warns Sridhar: "You can't keep competing with offers, if one company gives 20 per cent discount, second company will give 21 per cent discount and so on. Rational decision making helps till a certain point, but the emotional quotient determines the final choice. Customers are willing to pay a little extra for brands that they connect with."
Does emotive advertising encourage spending?
It depends on the power of the creative says a recent study by Nielsen Global. The study said that creative quality contributes more than anything else to success in the marketplace.
"I believe these festival ads help conservative Indian consumers open up their purses and indulge. This year's Diwali is a little different since it is coming soon after the Goods and Services Tax implementation. And unfortunately, it is coming very early. This may have dampened the enthusiasm of brands to do big campaigns," says Ambi Parameswaran, founder of Brand-Building.com.
Sridhar said that purchasing power, the hesitation towards spending on luxuries and the adoption curve are what differentiate rural India.
He added that television, mobile penetration among other factors, have solved various distribution and psychographic problems.
It is also interesting to see how advertising this season has been more targeted. Partly because of the availability of more data and better analytical tools, brands are able to craft different stories and offers for different customers.
On television however, the target seems to be the young spender. The spending may be directed towards old parents or an elderly acquaintance but the spender is always young.
"The family balance has shifted to the new millennial couple who are invariably DINKS (double income no kids) with high disposable income and many aspirations to reach out for," said Goyal.
Sridhar offers an interesting insight into the consumption behaviour of the young.
He says that they spend more, but do not want to block their income by incurring large or long-term expenses. This makes them the target consumer for everything apart from big ticket items like houses, life insurance and mutual funds.
He adds, "They prefer to hire instead of owning houses and cars, dine out, order food instead of cooking. Such habits make them a target for small ticket day-to-day spending. Saving is an alien concept for them. Spending is the mantra."
Companies are keeping these attributes in mind when they peg their products around children taking parents for international holidays or encouraging them to splurge on their hobbies.
Interestingly, the changing lifestyles or the growing 'uber-isation' of the youth is also encouraging advertisers to drive behavioural change towards the environment, the family, neighbours and so on.
While this helps brands align themselves with a cause, the risk is that it could also end up making them sound preachy. And that is a fine line to tread.