Domestic-focused agricultural chemical (agrochem) companies could face near-term headwinds, given the worries on the El Niño effect on monsoons, higher inventory, and pressure on margins.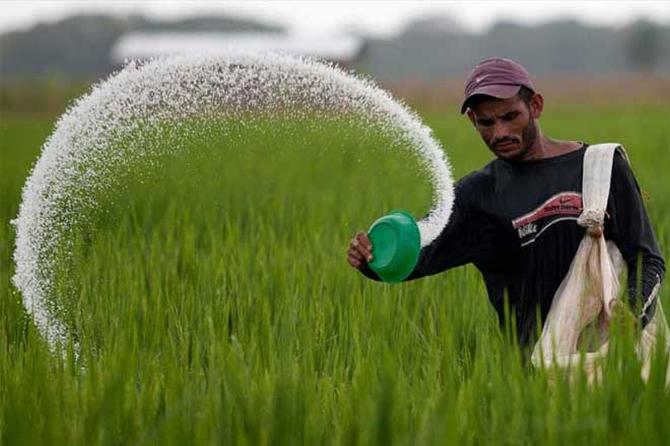 Some of these were reflected in the October-December quarter (third quarter, or Q3) results of companies and may impact them in the current quarter (fourth quarter, or Q4) as well.
Nuvama Research pointed out that the sector witnessed mixed performance during the quarter as global agrochem and domestic fertiliser companies maintained growth momentum, while adverse agronomical conditions and excess channel inventory weighed on domestic market volume offtake.
Dhanuka Agritech and Rallis, which generate a majority of revenue from the home-grown market, did not fare well in the quarter.
Dhanuka posted 10 per cent growth in the quarter — most gains came from price hikes.
Gross margins for the pesticide manufacturer contracted 220 basis points (bps) due to high-cost inventory and inability to fully pass on inflated raw material costs.
The management, however, indicated that most of the high-cost inventory had been liquidated in Q3 of 2022-23; the rest would be exhausted in Q4 (January-March quarter).
The domestic crop care segment of Rallis logged 7 per cent growth in revenue.
This was entirely pricing-led, with flat volumes, compared with the year-ago quarter. Its export business declined 7 per cent, led by lower volumes (due to higher inventory build-up at the customer end) and pressure on realisations (due to sluggish demand for key products).
Its overall operating profit margins slid 227 bps to 8.5 per cent, bearing in mind higher market spend and high-cost inventory.
India's largest agrochemical company UPL (formerly United Phosphorus) registered 21 per cent growth in overall revenue, driven by the Latin American and North American markets which grew 28 per cent and 30 per cent, respectively.
However, the agriculture solutions provider reported a flat domestic crop protection performance in the quarter.
Strong traction in the seed business helped offset the muted India crop protection performance.
Michael Frank, chief executive officer of its global crop protection business, pointed out that the subdued performance was due to unfavourable weather conditions and high channel inventory, galvanising lower volumes.
He, however, said the impact was compensated by improved price realisation.
While the India portfolio is sizeable, with revenue crossing Rs 1,075 crore in the quarter, the domestic market accounted for only about 8 per cent of its consolidated revenue.
Agri-sciences company PI Industries, too, saw a strong quarter, with overall revenue growing 19 per cent.
The export segment grew a robust 23 per cent over the year-ago period.
While volume growth accounted for 9 per cent of gains, the rest of the growth came from favourable pricing, currency benefits, and a better product mix.
Axis Securities expects the pressure on domestic companies to continue in Q4.
While fertiliser demand was relatively stable in Q3, channel inventory for agricultural inputs remained elevated on lower infestation in earlier seasons.
This led to slower growth for Indian agrochem companies in Q3.
It may impact Q4 demand as well, subject to an easing of channel inventory pressure and outlook for monsoons, says the brokerage.
Analysts at the brokerage, led by Ankur Periwal, say that global agricultural input inventory, especially for generics, is relatively high and will normalise gradually on inventory drawdown.
Declining global prices, however, will impel inventory losses in the near term, they add.
The key trigger for the sector will be the pace and progress of monsoons.
There is an expectation that this year may well see El Niño make an appearance, giving rise to dry conditions and a deficient monsoon.
Say analysts at JM Financial, "The probability of El Niño occurring this year is increasing with every revised prediction.
"Currently, it stands at 60 per cent by August-October.
"If El Niño appears, it could lead to an extended and humid summer season in India."
The phenomenon was last seen in 2018 and led to lower-than-normal rainfall.
Analysts of Nuvama Research, led by Abneesh Roy, say that the El Niño event has an inverse relationship with monsoons, which only means rainfall is usually downcast during such a year.
Consequently, lower sowing and resultant lower crop yield will hurt farm income.
After four good monsoons, the probability of a fifth normal monsoon appears diluted at this stage, they add.
Given the multiple headwinds for the domestic sector, investors should await progress on destocking and volume growth trends, as well as monsoon movement.
Nuvama Research is cautious about domestic agrochem players like Dhanuka Agritech and Rallis while being upbeat on global players like UPL.