As economic policy making moves from pragmatism to populism, the bulls begin to make way for cautious optimists.
Illustration: Uttam Ghosh/Rediff.com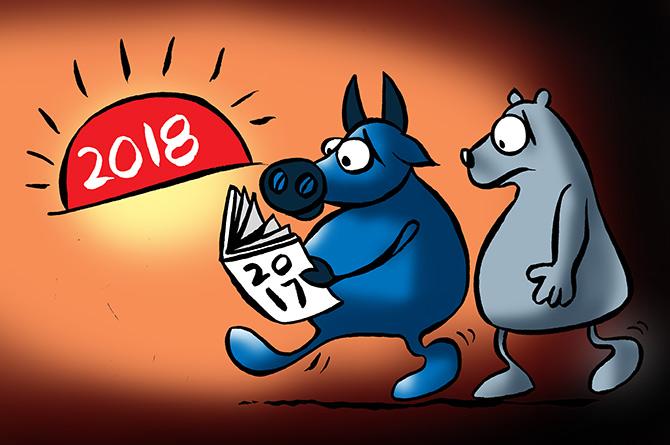 Pre-election years are usually exciting.
While the incumbents gear up for a dash in the final lap, the wannabes are likely to put up tall hurdles.
As economic policy making moves from pragmatism to populism, the bulls begin to make way for cautious optimists. Here are some signposts to look out for:
1. Memories of 2008: The euphoria in stock market in 2017 is a near mirror image of what happened 10 years ago.
Driven by liquidity, the S&P BSE Sensex had then ignored all warning signs, including high valuations, to scale new heights.
Will January 2018 be as choppy as that of 2008, when it climbed Mt 20k before crashing? And then, there was Lehman collapse, triggering the Global Financial Crisis.
2. Implications of 2G verdict: Imagine the fate of high momentum stocks such as Unitech, DB Realty and Reliance Communications, if there was no 2G scam.
Why did investors pay such a heavy price on these stocks if there was no scam? Will these regain their lost glory?
Some companies have thought aloud about suing the government, while the investigative agencies have said they will appeal.\
3. Fallout of Gujarat mandate: The closely fought Gujarat elections and a resurgent Rahul Gandhi will be playing on the minds of the ruling party as it begins a new and crucial year.
While the BJP has been asserting a win is a win, Congress' tally seems to have given it confidence to win more allies.
4. Populist Budget: Jobs and farmer distress would be two clear themes that the finance minister would want the Budget to be seen delivering on.
Whether it will be more spending or more waivers and the impact these are going to have on the fiscal deficit are matters of concern for the Street.
5. Divestment: A populist Budget would mean more family vessels are sold.
But, with large private sector issues lined up, the government might find it difficult to sell its ware without help of Life Insurance Corporation.
6. Interest rates: With the base effect kicking in, inflation is likely to flare its head up.
The Central bank, which paused last time despite cries for a deep cut, might not be too reluctant adding a few basis points to key rates.
7. Middle year of Sebi chairman: The middle year is usually the most productive for the regulator who comes with a three year term.
Having understood the contours of the market through detailed discussions with various stakeholders, the Sebi chief Ajay Tyagi will be expected to take calls on crucial issues such as tighter corporate governance norms, stressed assets tweaks and framework for angel investors.
8. Deliverance for scam hit investors: Several scams such as Saradha, Sahara and National Spot Exchange (or NSEL), which broke out during the United Progressive Alliance regime are still awaiting closure.
Investors would look for swifter closure so that their hard earned money could be deployed productively elsewhere.
9. Future of NSE: The troubles of National Stock Exchange (NSE) have lingered longer than expected.
It has been more than a year since previous chief Chitra Ramkrishna stepped down and nearly six months since her successor took charge.
Yet, the controversy around the alleged irregularities in algo trading has refused to die.
10. Banking woes: Government has announced capitalisation of banks.
But, many are of the view that it would fall short.
Better placed banks are using market buoyancy to raise funds.
These may provide opportunities for bargain hunters.
11. Outcome of Big 12 defaulters: Over Rs 2 lakh crore of bank debt is riding on 12 large companies, which have been sent to the National Company Law Tribunal.
Resolution plans of these firms are likely to be cleared in the early part of the year.
These and public acceptance of the same are going to be crucial for the next list from RBI and beyond.
12. Mutual Funds sahi or galat: Record inflows and bulk of these from non-SIP route have begun to worry regulators.
So much that the industry body was asked to tone down its popular ad campaign.
There is a folklore that builders have stopped projects and are putting money in mutual funds as efforts are less and results are great in a one-sided market.
Will the castles last?
13. IPO markets: The regulator also expressed concerns about steep pricing in the initial public offerings (IPOs).
The year 2017 has seen close to Rs 70,000 crore of fund raising through IPOs, more than ever.
But, some analysts have stuck their neck out to say, next year would be even bigger.
14. Jio's IPO: Next year's primary market haul would depend on size and timing of the arrival of the mammoth from Mukesh Ambani's stable.
An early launch of this float could mean hype and hoopla unseen by this generation of investors and is likely to create a post-issue fatigue.
If it comes towards the end of the year, then more issuers would get to cash in.
15. Oil on boil? Much of this economy's performance during the last few years has been gold-plated by benign crude oil prices.
From around $44, Brent crude oil has raced to nearly $65 per barrel in six months.
A further rally could derail the New India story.
16. Cryptocurrencies: 'Bitcoin', 'Initial coin offerings' and 'mining' have become taxi drivers' conversation starters.
Frenetic price action has seen them emerge as competition for conventional investments.
Some regulators have banned. What will Indians do?
17. New scams: Typically, in a pre-election year, there is a heightened possibility of discovering scams.
While the government tends to attack opposition-related scams through various agencies under its command, the opposition also does its best to expose conflicts of interest within government.
18. 2019 general elections: With the big fight for Karnataka out of the way in May, whatever gets done will be with an eye on the big political prize coming up for grabs in 2019.