Indian economy is poised to do better on the back of reforms undertaken by the government and is expected to clock a 6.5-7 per cent growth in the remaining part of the decade, Chief Economic Advisor (CEA) V Anantha Nageswaran said on Tuesday.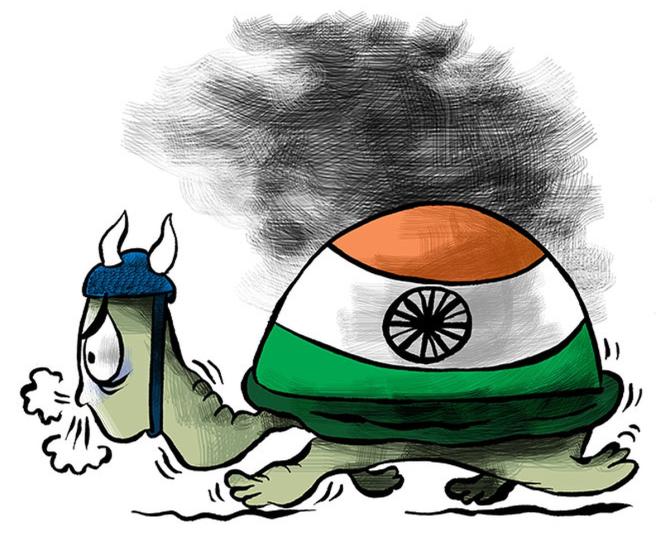 Addressing reporters here after the tabling of the Economic Survey in Parliament by Finance Minister Nirmala Sitharaman, Nageswaran said that by and large, inflation is likely to be "well behaved" in FY2023-24 barring headwinds.
"My optimism is that in the coming decade, rest of the decade, the potential GDP growth, without taking into account export potential, because global economy is still rife with uncertainty, the growth rate would be around 6.5 to 7 per cent, rather than between 6 per cent and 6.5 per cent," he said.
Talking about other drivers, he said, healthy balance sheets of corporates and improvement in the financial sector will push growth in the coming years.
He also said that global slowdown would favour India but uncertainty on commodity prices and volatility in crude oil are major challenges.
The Economic Survey, which has been prepared by the CEA, stated that RBI's projection of retail inflation at 6.8 per cent in the current fiscal is neither too high to deter private consumption, nor so low as to weaken inducement to invest.
India's economy is projected to slow to 6.5 per cent in the fiscal year starting April but will remain the fastest-growing major economy in the world as it fared better in dealing with the extraordinary set of challenges the globe has faced, the Economic Survey 2022-23 said.
Nageswaran said as long as oil prices remain below $100 per barrel, the projected growth rate would remain undisturbed.
To a question if the government has given upon the hope of 8 per cent growth, he said "even without export growth kicking in we can strive for 8 per cent growth and be able to achieve 8 per cent growth."
"The reason why we should be looking at 8 per cent or 9 per cent (growth) at this point of time because in the first decade global economy was booming and now it is in slowdown phase...if global economy does better and if efforts to plug in global supply chain succeeds and exports growth kicks in that would help in pushing potential growth to rise from 7 per cent to 8 per cent," he added.
He also said employment generation is an important policy goal and the government has taken several initiatives to create jobs.
Asked about the impact of demonetisation, Nageswaran said, "There are academic studies which showed that the impact if anything was fleeting and it had positive contribution in terms of hastening the transition to digital economy and in terms of discouraging black money creation."
He pointed out that the quality of public expenditure has gone up and the government has become more transparent with budget deficit numbers.
There is increased transparency in public procurement, he added.
The Capital Expenditure (Capex) of the central government, which increased by 63.4 per cent in the first eight months of FY23, was another growth driver of the Indian economy in the current year, crowding in the private capex since the January-March quarter of 2022, he said.
The finance minister raised capital expenditure (capex) by 35.4 per cent for the financial year 2022-23 to Rs 7.5 lakh crore to continue the public investment-led recovery of the pandemic-battered economy.
The capex in the previous year was pegged at Rs 5.5 lakh crore.
The government laid emphasis on capital expenditure to push economic growth hit by the pandemic.
It was expected that the increase in public spending would crowd in private investment.
The CEA also said credit growth is picking up across sectors, and credit to MSMEs has grown at 30 per cent since January 2022, while NPAs in NBFCs are lower than what it was 15 months ago.
He observed that India is well ahead of its targets for renewable energy mix.