The project, anchored by National Highways Authority of India in partnership with National Payments Corporation of India, is gaining momentum, with big banks such as ICICI and non-bank entities like Paytm have also entered the arena.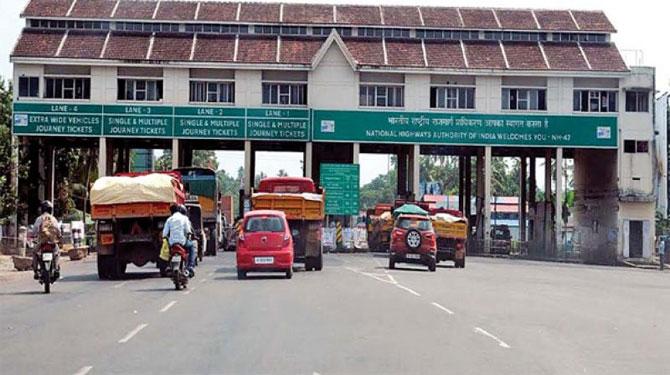 The launch of automatic toll collection tags is a matter of cheer for those travelling on national highways, with the substantial cut in waiting time at toll plazas.
Launched in 2016, the government's project to automate all toll collection through radio frequency tags -- termed FASTags -- is shifting gear. The government has made it mandatory for every new four-wheeler vehicle to have a tag from this December.
The project, anchored by National Highways Authority of India, in partnership with National Payments Corporation of India, is gaining momentum. Big banks such as ICICI and non-bank entities like Paytm have also entered the arena.
According to estimates provided by a payments processor, Worldline, which works on FASTag implementation with eight banks, a little more than 1.5 million tags have been issued already -- 800,000 in the past four months. Revenue collection through FASTag clocked a cumulative Rs 25 billion last month.
"It's very encouraging to see the pick-up in FASTag volumes. The industry is embracing the idea and entities are working hard to ensure highest possible adoption," said Vishal Maru, head of merchant services and digital services at Worldline. As part of the rollout, he adds, banks are aligning with different partners.
FASTag is a device using radio frequency technology for making payments directly through a linked prepaid account to the toll plaza, without the need to pay in cash or wait in queues for a long while.
FASTags are currently offered by about 10 entities; these include ICICI, State Bank of India (SBI) and Punjab National Bank. Among these, eight are also in the business of acquiring and operating toll plazas.
According to the current revenue sharing arrangement, an acquirer get 1.25 per cent of the toll value as commission; an issuer gets 1.5 per cent.
Currently, the top contenders are ICICI and SBI among the big banking entities; Paytm as a new entrant is fast gaining ground.
An official from SBI, on condition of anonymity, said they were working with four partners on the ground to implement FASTags. The latter handle everything from sales and customer service to marketing on the ground.
"We have a separate internal department, too, working only on FASTags," the official said. He added the bank had issued a little more than 280,000 tags so far, to both old and new vehicles.
To increase issuance, each entity is targeting car and commercial vehicle dealerships, tying up with these to have vehicles move out with the tag pre-fixed on the windshield. For older vehicles already on the road, companies are partnering with workshops and fuel stations, where customers are sold FASTags by their sales teams.
SBI, for instance, has tied up with 600 vehicle dealerships across the country. Paytm is going after vehicle manufacturers such as Maruti, Hyundai, Tata, Mercedes, Renault, BMW, Volkswagen and Volvo.
A Paytm spokesperson said it had entered the FASTag business only six months earlier but is clocking double-digit monthly growth in number of issuances and become the second largest in terms of toll plaza acquiring and number of transactions.
A company official says Paytm is currently issuing about 1,500 tags a day, the same as SBI.
"Over the next quarter, we will actively convert all high frequency toll plaza commuters to FASTag, at over 90 toll plazas across the country," the spokesperson said.
As banks ready their expansion plans, a push for commercial vehicles is required. The SBI executive said 80 per cent of their issuances were for passenger vehicles. This is something the industry is looking to change, as it is the CVs which travel a lot more through toll plazas; their business gets impacted due to delays in travel time.
"The skew is definitely there and it needs to be more in the favour of CVs. Banks developing new partnerships with companies directly might help change the situation; old vehicles will only come under the ambit slowly," the SBI executive said.
However, not all is well in automatic toll collection. Customers have reported hiccups such as double deductions from their account or having to pay in cash despite money getting deducted from FASTag, if not reflected in the operator's system.
"All these are teething issues. These will happen, as the industry is evolving. There are compliances which have been set up by the NPCI but you will have issues coming up," said Maru of Worldline.
"There are guidelines for reversals, for refunds which are processed on customer complaints but we can't expect the issues to disappear right away."
Photograph: PTI Photo.