'If an investor wants to clone an ace investor's portfolio, s/he will be better off cloning the entire portfolio rather than cherry picking stocks selectively,' Tinesh Bhasin and Sanjay Kumar Singh point out.
Illustration: Dominic Xavier/Rediff.com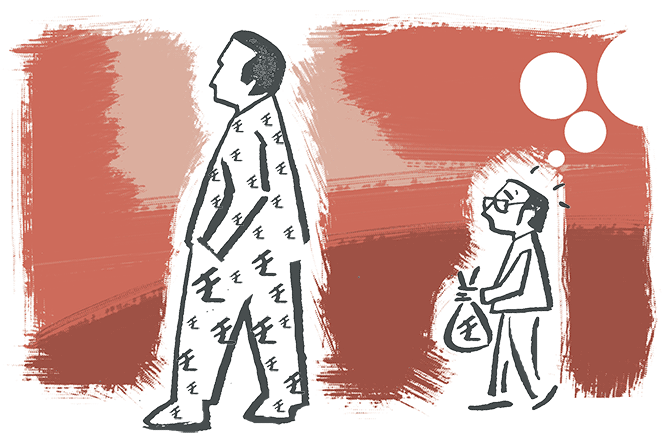 Ace investors like Rakesh Jhunjhunwala, Dolly Khanna, Mohnish Pabrai, Porinju Veliyath, etc, enjoy celebrity status within the investor community.
Their fans have Web sites, social media pages and blogs dedicated to them, and their stock picks and portfolios are closely analysed.
But following them blindly, without doing your own research, can lead to losses.
Each of these celebrity investors has a high stake in certain stocks, known as their 'darlings'.
Last year, a few ace investors invested in Rain Industries.
When data on their investments in the April-June quarter appeared in July 2017, the stock was trading at around Rs 110.75.
Retail investors bought the stock, and drove its price to Rs 461.35 by January 2018.
Since then the stock has been on a downward spiral and is now at Rs 198.25.
For retail investors it is difficult to keep up with the buying and selling of famous investors.
"Data on their holdings comes with a lag -- at the end of a quarter. By the time an investor decides to follow them, they could have exited the stock," says Arun Kejriwal, director at KRIS Capital, an investment advisory firm.
You can definitely learn from them, however.
"They are experienced and have seen success. But retail investors should not follow their stock picks blindly," says S G Rajasekharan, who teaches wealth management at Christ University and is an avid equity investor.
Any investment tip should be backed up by your own research and analysis.
Copy with conviction" While some of these investment gurus are indeed good, others are not.
If you follow the tips of the mediocre ones, you could end up investing in poor quality stocks.
By following ace investors, you can narrow down the prospective list of stocks. 4,000-plus stocks are listed on the exchanges.
You may use their tips to bring down the number. But after that you must do your own analysis and valuation.
Can't keep up with them: No real-time data is available on what stocks these ace investors have bought and sold.
Companies have to report the names of individuals or investment companies that hold a stake of one per cent or more in them every quarter.
The portfolio of investors that is put out comprises companies where they hold a stake of one per cent or more.
If these investors hold less than one per cent stake in a company, that data is not reported.
Some investors also run investment advisory or portfolio management services. You can get to know about their investments from their portfolios. But these too are not available in real time.
What these investors bought and sold in the April-June quarter is reported in July, provided their stake is above one per cent.
If they sell stocks in the July-September quarter, it will be known only in October.
If an investor buys stocks where these investors have increased their stake in the quarter ending June, s/he has no way to know whether they have further hiked or sold off their investments between July and September until the next set of data comes out.
They can enter and exit without your knowledge: If an ace investor doesn't want to reveal her/his investments but still buy a large chunk, s/he can do so by using multiple investment companies.
"If each company holds less than one per cent stake, others will not get to know the correct percentage of holding the investor has in a company," says G Chokkalingam, founder and managing director, Equinomics Research.
These ace investors are also more vocal when they enter a stock. Their entry is publicised. But when they exit, they don't usually talk about it.
They diversify, retail investors don't: Even when these ace investors buy one per cent or more stake in a company, that stock is usually less than 10 per cent of their overall portfolio.
Inexperienced retail investors go overboard.
"If it is a risky bet and it goes wrong, the ace investor, being better informed, will exit in time. His/her stake is anyway a small part of his/her portfolio. But the small investor who doesn't have the same access to information and is overweight could lose a large chunk of her/his money," says Rajasekharan.
If an investor wants to clone an ace investor's portfolio, s/he will be better off cloning the entire portfolio rather than cherry picking stocks selectively.
"Investing is always probabilistic. The celebrity investor is building a portfolio and looking for returns at the portfolio level. S/he doesn't know which bets will work and which ones will not," says Jatin Khemani, founder and CEO, Stalwart Advisors, a Sebi-registered independent equity research firm.
Imagine what happens to a cloner who selectively clones Jhunjhunwala but does not buy Titan or CRISIL which have performed the best and also have the highest allocation in his portfolio.
He may be left holding those bets that haven't done well.