Do not go for riskier options like co-operative bank only for the higher return. Even if you go for them, park only a small portion of your capital there, say Tinesh Bhasin and Sanjay Kumar Singh.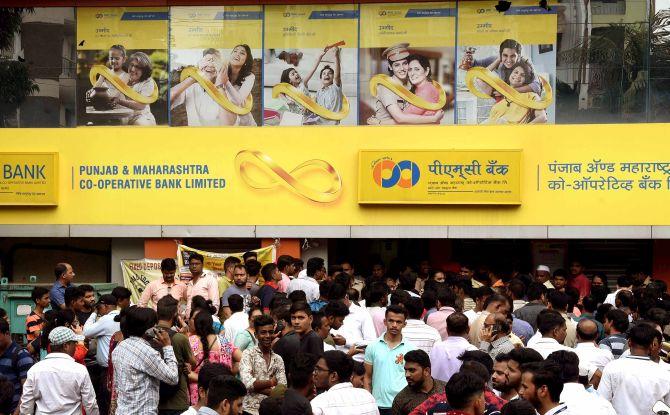 Depositors would be feeling extremely harassed with the Reserve Bank of India's (RBI's) decision to restrict withdrawal from Punjab & Maharashtra Co-operative Bank or PMC Bank.
Many depended on the money parked with the bank for their daily lives and businesses.
But there was little that the banking regulator could do after finding severe irregularities at the bank.
For the next six months, depositors can only withdraw Rs 1,000 only at one time.
If there are scheduled payments or equated monthly instalments linked to PMC Bank accounts, they have to be shifted to another bank's account.
In interviews with media, the management has said that it is hopeful that all depositors would get their money back as the bank has given only collateralised loans.
Even if this is true, banking sources say that the final resolutions would take months or even years.
Uncertain future
Those who have up to Rs 1 lakh or below with the bank; the deposit insurance covers them.
But they will still have to wait until the time regulator finds a suitable solution.
For those who have over Rs 1 lakh, they will have to wait and watch.
When the regulator imposes restrictions under Section 35A of the Banking Regulation Act, it is an extreme step.
"Bank affairs are completely stopped, and depositors can withdraw a limited amount. It means RBI believes that the situation is serious," says RK Bakshi, former executive director, Bank of Baroda.
He adds: "Unless RBI completes the total investigations -- because there might be other skeletons in the cupboard - there will be no solution."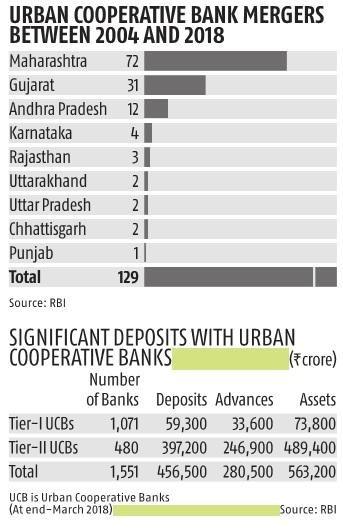 In recent cases such as Kapol Co-operative Bank, Vasantdada Nagari Sahakari Bank, Padmashree Dr Vitthalrao Vikhe Patil Co-operative Bank and Karad Janata Sahakari Bank, the RBI has extended the restriction a few times.
In the past, when the RBI had taken similar action, the outcome had varied depending on the financial health of the bank on which restrictions were put.
Bakshi, for example, points out that about a decade back Bank of Baroda took over Memon Cooperative Bank and all the depositors were paid off.
The resolution of PMC Bank also depends on the regulator's assessment of its assets and liabilities.
There could be a scenario where another bank takes over PMC Bank if the financial health is good.
If not, the regulator can keep extending the restrictions like in case of other co-operative banks.
Co-operative banks are riskier
Co-operative banks more susceptible to governance issues.
In the current financial year, over a dozen co-operative banks have faced restrictions on withdrawal.
According to Usha Thorat, former deputy governor of the RBI and chairperson of Financial Benchmark India, there are multiple reasons why co-operative banks face governance issues.
"These banks are small, and due to their size, they are more susceptible to concentrated lending. They are subjected to dual regulation by the RBI and by Registrars of Cooperative Societies, which can be exploited," says Thorat.
Existing customers who do not want to take any risk should move their money out of co-operative banks and put it in a scheduled commercial bank (unless they are absolutely sure about their co-operative bank's position).
"In this kind of an environment, you do not know what the chain reaction might be," says Mumbai-based financial planner Arnav Pandya.
Many depositors belonging to lower-income groups are forced to open an account with a co-operative bank because they find it difficult to do so with a scheduled commercial bank.
"People who are able to open an account with a scheduled commercial bank should stick to them," says Deepesh Raghaw, founder, PersonalFinancePlan.in, a Sebi-registered investment advisor.
Do not go for riskier options like co-operative bank only for the higher return.
On a five-year deposit, State Bank of India offers an interest rate of 6.25 per cent while PMC Bank offers 7.25 per cent, a difference of 100 basis points.
Even if you go for them, park only a small portion of your capital there.
Do not put all your money in a single bank. Many cases have come to light of people who had put their entire life's savings in PMC Bank.
"Diversification acts as a strong safeguard against these kinds of risks. Spread your deposits across three-four banks," says Ankur Maheshwari, chief executive officer, Equirus Wealth Management.