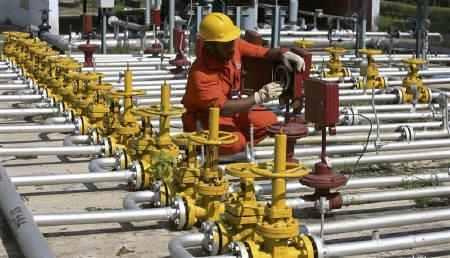 The Union Cabinet on Wednesday cleared a dilution of the government's stake in Oil and Natural Gas Corporation (ONGC), Coal India Ltd (CIL) and NHPC Ltd.
At current market valuations, the amount of its holdings the Centre wants to offload in these companies could fetch it as much as Rs 45,796 crore (Rs 457.96 billion) - more than the Budget target of raising Rs 39,925 crore (Rs 399.25 billion) through disinvestment in public-sector undertakings.
However, the actual proceeds for the exchequer could be a little less than the estimated value, as the three stake sales will take place in the secondary market, where investors usually place bids that are lower than the prevailing market price.

Also, an uncertainty over pricing of natural gas could lower the proceeds from ONGC stake sale, while employee unions' resistance might affect the CIL disinvestment.
The Cabinet Committee on Economic Affairs approved selling 10 per cent of the government's stake in CIL, five per cent in ONGC and 11.38 per cent in NHPC. By Wednesday's market value, these are worth Rs 23,613 crore (Rs 236.13 billion), Rs 19,048 crore (Rs 190.48 billion) and Rs 3,135 crore (Rs 31.35 billion), respectively.
The Centre's fiscal deficit in the first four months of the financial year has already exceeded 60 per cent of Budget estimates for full year. The stake sales are likely to help the government meet the Budget target of reining in fiscal deficit at 4.1 per cent of gross domestic product in 2014-15.
"At present, there is demand from foreign institutions, as well as domestic players. So long as the policy issues are sorted out quickly and valuations leave something on the table, there should be sufficient appetite for these (stake sale) issues," said Dalton Capital Advisors Managing Director U R Bhat.
To boost retail investors' participation in its disinvestments, the government is planning to offer them discounts, besides a quota of up to 20 per cent for small investors (those bidding for up to Rs 2 lakh). Life insurance Corporation, which has bailed out the government's disinvestments on many occasions in the past, is also said to be building up a war chest.
In addition to state-run companies, the government also plans to sell its residual stake in Hindustan Zinc and Balco which is expected to fetch Rs 15,000 crore (Rs 150 billion). Also, Specified Undertaking of Unit Trust of India could bring the exchequer another Rs 6,500 crore (Rs 65 billion).

These together take the total disinvestment target for 2014-15 to Rs 58,425 crore (Rs 584.25 billion) - 269 per cent higher than the previous year's actual proceeds of Rs 15,819 crore (Rs 158.19 billion).
According to experts, the government's stake sale will help revive investor sentiment in the power sector at the right time. The Supreme Court is likely to decide in two weeks the fate of 194 coal blocks whose allocations it earlier declared illegal.
"After the Supreme Court judgment on coal block allocations, the government will focus on improving CIL's operations. It is a great opportunity for investors to get into the coal story that is unfolding," said PricewaterhouseCoopers Executive Director Sambitosh Mohapatra. He said NHPC, whose projects were stuck at the gestation level, was more of a longer term bet due to continued project-development challenges.
The Cabinet had earlier given its approval to sale of five per cent stake in Steel Authority of India Ltd which might raise another Rs 1,700 crore. The steel company is likely to be the first state-run company to go for disinvestment later this month. All of these issues are likely to tap the market through the offer-for-sale (OFS) route, which is considered more convenient and less time-consuming than follow-on offerings.
"There will be good appetite for the ONGC, NHPC and SAIL issues but the recent coal supply problems could cast a shadow over the CIL disinvestment," said Aditya Birla Money Managing Director Sudhakar Ramasubramanian. He added domestic institutions like mutual funds and insurance companies, which were sitting on cash, would participate because the equity appetite had gone up. But foreign investors could be slightly wary of investing in public-sector names at this point.
"The uncertainty over gas pricing might impact ONGC's valuations. The market takes into account cash flow estimates that would be discounted because of this uncertainty," said Dipesh Dipu, associate professor of energy at the Administrative Staff College of India.
Edelweiss Financial Services Managing Partner (global wealth management) Ambareesh Baliga, however, had a different take on Wednesday's Cabinet decision. He said the stake-sale clearance could prove a temporary dampener for these companies' stock prices, at a time when a fall in subsidy burden due to diesel price hikes and softer crude oil prices could have been big positives.
Earlier this week, the finance ministry had selected five merchant bankers - Citigroup, HSBC Securities, UBS Securities, ICICI Securities and Kotak Mahindra Capital - to advise it on timing and modalities of the OFS and to ensure best returns to the government.
OTHER KEY DECISIONS
1 billion: Phase-V of the Unique Identification project, to generate one billion Aadhaar numbers by 2015, cleared
Rs 8,112 cr: Investment for NHPC's J&K hydel project approved
Rs 5,300 cr: Project to boost telecom infra & connectivity in the Northeast approved
Rs 4,000 cr: The authorised capital of National Export Insurance Account raised
Rs 2,496 cr: Setting up of additional liquid bulk terminal at JawaharlalNehruPort approved
Rs 950 cr: Project for development of the coffee sector in the 12th Plan cleared
Rs 287.67 cr: Clearance for payment of dues and salary to staff of 11 loss-making CPSUs