The IPL uses this system for players' auction.
Illustration: Uttam Ghosh/Rediff.com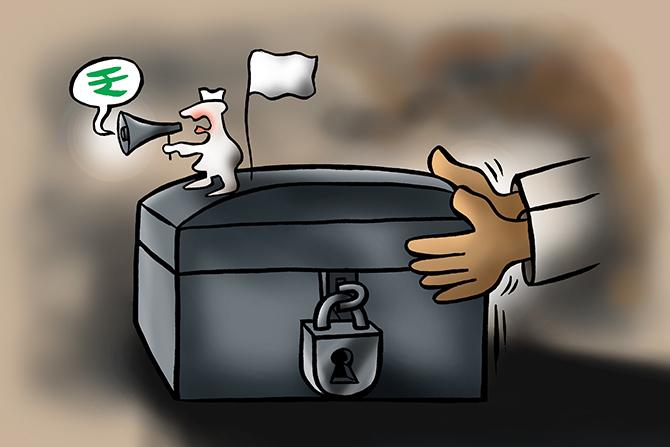 In a departure from physical bids, the Centre is working on an online portal for selling state-owned entities.
The portal, which is being developed by state-owned Metal and Scrap Trading Corporation (MSTC), will redesign the process of privatisation.
E-bidding will also change the sales process from sealed bidding to an English auction system, which is an open ascending system under which participants bid against one another, with each subsequent bid required to be higher.
The auction ends when no participant is willing to bid further, and then the highest bidder is declared the winner.
Currently, divestment of state-owned entities happens through a manual process in which an interested bidder submits a sealed bid.
The bid is then opened on a stipulated date and the highest bidder is declared the winner.
"We are working with MSTC to build a platform which will henceforth be used for all disinvestment of public sector entities.
"Through this platform the entire process including bidding will be done electronically.
"The Department of Investment and Public Asset Management (Dipam) has given the mandate to develop the platform to MSTC," said a senior government official.
Dipam is the nodal agency for handling sales of the government's equity in central public sector entities.
Explaining the English auction system, the official said, "The online system after comparing the bids will not disclose the exact bid amount but inform the parties that yours is not the highest bid. They will then be allowed to increase the quote or drop out till a single bidder remains."
The IPL uses this system for players' auction. However, such a system can be successful when there is a large interest among bidders for buying the property on sale.
Senior officials said the change would help the government to realise more value from the sale process as participants bid against each other, helping in the discovery of a fair price.
The government has successfully used the auction method to sell oil and gas blocks, coal blocks and telecom spectrum.
Recently, the civil aviation ministry has used the process for bidding out routes under the Regional Connectivity Scheme.
The new platform will also be a single-window interactive forum for all stakeholders, including investors, investment banks, law firms, public sector units and administrative ministries that are involved in stake sales.
"A soft launch of the portal has already been done for a few public sector undertakings identified for listing and strategic sale, investment banks, law forms and administrative ministries.
"The platform is expected to give them closer access and better interaction with Dipam to work on ongoing and upcoming stake sales," the official said.
Dipam is expected to raise Rs 80,000 crore from divestment this fiscal year through public listing, minority stake sales and strategic divestment in public sector undertakings.