'The reason is that you may not enter the branch but you want to see it near you as it establishes trust.'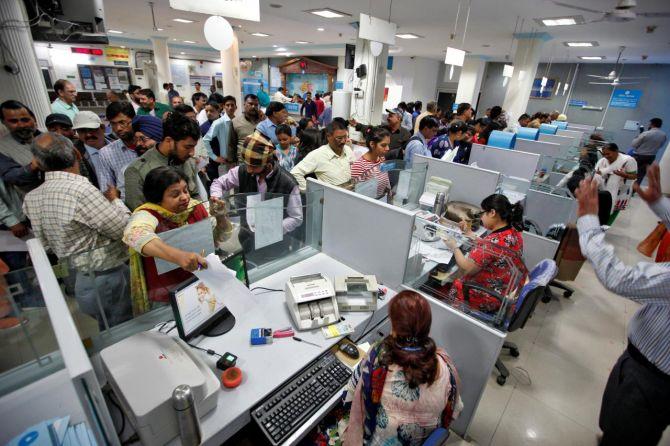 India's cashless drive may have taken off after demonetisation but banks have been witness to the digital revolution much earlier.
Data shared by banks in their investor presentations shows that branches now have a miniscule share of financial and non-financial retail transactions as mobile and internet banking have taken over.
For instance, HDFC Bank's latest investor presentation for the quarter ended March 31, 2018, showed that the bank's branches only conduct 8 per cent of customer transactions as opposed to 43 per cent of the transactions in 2008.
This is largely due to the larger share captured by internet banking, which now constitutes 85 per cent of all transactions for the bank.
In 2008, internet and mobile transactions constituted 3 per cent.
A similar trend is seen across all big private as well as public banks reviewed by Business Standard.
The rise of digital transactions is also due to the Immediate Payment Service, proliferation of mobile banking apps, and the unified payments interface.
Even the share of ATM-based transactions in the mix seems to be declining over the years.
For HDFC Bank, ATM transactions declined from 40 per cent of all transactions in 2008 to just 6 per cent in the year ended March 2018.
This, however, does not mean that banks are reducing their branches or scaling down operations.
Axis Bank said in its investor presentation that the bank would continue to invest in branches.
The bank has 3,703 branches even as the average branch size has shrunk to 38 per cent of what it was in 2013.
Axis Bank's business has undergone a similar digital change with 92 per cent transactions happening outside branches as opposed to 87 per cent a year ago.
However, the bank is focused on increasing the number of branches as new branches drive customer acquisitions and increase deposits.
"New customer acquisition is a larger growth driver than deepening of the existing customer wallet share. Physical distribution continues to be central to new customer acquisition (even as transactions and cross-sell have shifted to digital channels)," Axis Bank said.
However, the rise in the number of branches has slowed.
In the year ended March 2018, the expansion of branches by public sector banks and private banks hit an eight-year low as they added 4,023 branches, the lowest since the 2008-09 when 3,536 branches were added, RBI data showed.
SBI recently launched a completely digital savings account in order to gain a larger share of the digital pie. SBI's business in its branches declined to 21 per cent in December 2017 from 26 per cent in 2016.
The state-owned bank has also seen a fall in the proportion of ATM transactions in line with other banks even as its internet banking transactions are still low at 20 per cent of total transactions.
In the private sector, ICICI Bank is at the forefront of digitisation as it opened 85 per cent of savings accounts through digital tablets as opposed to branch-based banking.
The bank expects 95 per cent of financial and non-financial transactions to take place outside bank branches, an increase of about 1 percentage point in the last six months.
Analysts said the banking business was set to go through a change as digital payments increased but ignoring branch banking could spell trouble.
"Branches are not going away soon, especially in rural areas where internet banking is still unheard of," said a banking analyst on condition of anonymity.
"While the ICICIs of the world are witnessing huge growth in digital transactions, they are overlooking a basic tenet of banking, which is that it relies on trust and interpersonal relationships," the analyst added.
The analyst referred to Singapore-based DBS Bank, which is a completely online and paperless bank in India operating solely through its mobile app.
While the bank boasts of 1 million accounts, its business is pretty low as compared to peers, the analyst points out.
"The branch business cannot go away even if digital transactions increase. The reason is that you may not enter the branch but you want to see it near you as it establishes trust," said Jindal Haria, associate director, financial institutions, India Ratings.
"Secondly, a lot of MSMEs have people just to do cash in and cash out at the bank on a daily basis because a lot of stuff like PF deposits only happen at bank branches," he added.
Photograph: Ajay Verma/Reuters