Public sector bank stocks (PSBs) gained ground on Friday after JP Morgan suggested that it will include India in its Emerging Market Bond Index starting June 2024.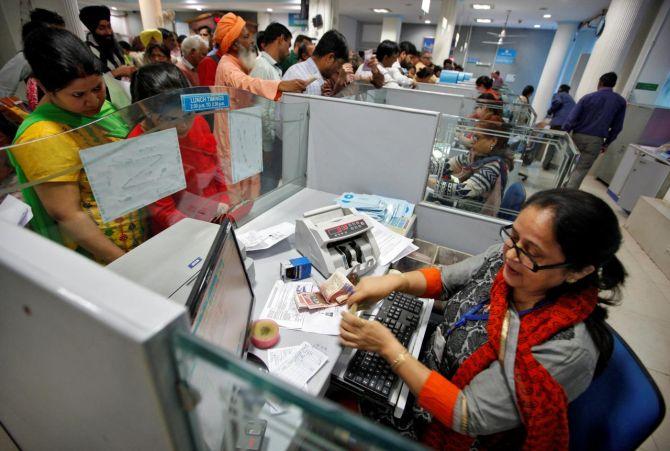 The rally in PSBs, analysts feel, was more a knee-jerk reaction to the development, and the actual benefits will start to accrue once the addition takes place in 2024.
"The actual benefit for banks from the inclusion in JP Morgan's EM Index will accrue from June 2024 onwards.
"Until then, the larger fundamentals of the market will dictate the moves.
"Once the initial euphoria subsides, bond markets will look to global cues which may trigger fresh selling," said Siddharth Khemka, head of retail research, Motilal Oswal Financial Services.
On Friday, the Nifty PSU Bank index rallied 4.13 per cent intraday, before settling 3.5 per cent higher.
By comparison, the benchmark Nifty50 index ended 0.3 per cent lower, while the Nifty Private Bank index fell 0.09 per cent.
Among individual stocks, Central Bank of India, Union Bank of India, Canara Bank, Bank of Maharashtra, Bank of Baroda, and Indian Bank leaped between nearly 4 per cent and 9 per cent.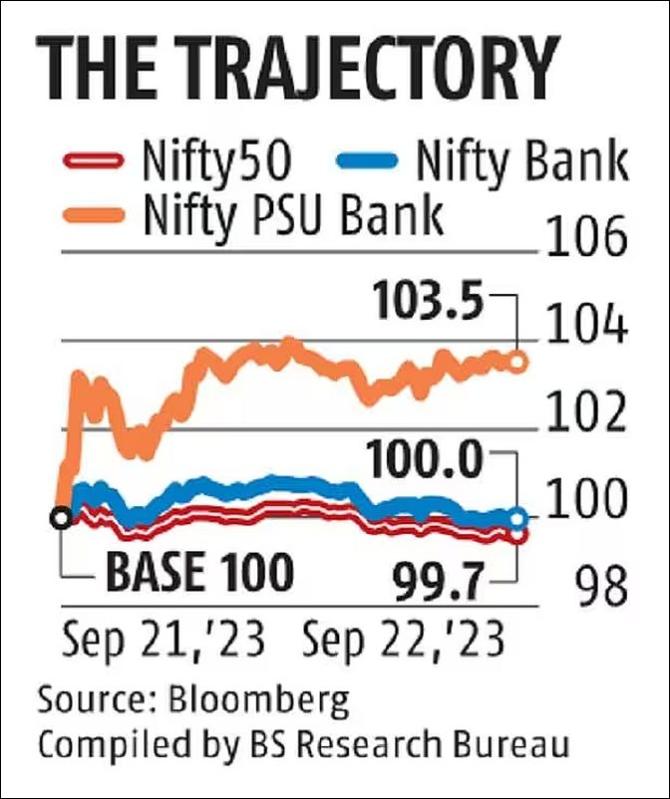 Thus far in calendar year 2023 (CY23), the Nifty PSU Bank Bank index has gained 20.75 per cent as against a 8.6-per cent rise in the benchmark Nifty50 index.
Long-term boost
That said, JPM's decision will reset the base rate for India, pushing yields lower by March 2024, and easing India's cost of borrowing.
This, analysts said, would boost the bottomline of companies in the long-run.
"If JP Morgan decides to increase the weightage of bonds in its index, it could lead to increased demand for these bonds, potentially benefiting bank stocks in the long run as they hold substantial bond portfolios.
"This could help stabilise bank stocks," Anirudh Garg of Invasset added.
In the money markets, the yields on 10-year government securities were volatile on Friday in anticipation.
They moved in a range of 7.086 - 7.151 per cent during the day, settling at the higher end of the band, as against 7.136 per cent on Thursday.
Madhavi Arora, lead economist at Emkay Global, believes bond yields and rupee would reverse gains after the initial euphoria, tracking global markets.
"The trend will again reverse in favour of bonds by end-Mar'24, with 10-year yield coming off well below 7 per cent.
"For H2-FY24, we see USD-INR ranging 82.25-84.25, with tactical RBI intervention keeping it in the middle of the EM Asia pack," she said.
Macro headwinds
From an overall market perspective, global factors, such as interest rate trajectory, oil prices, geopolitical events will take centre stage going ahead as the sentimental boost from JP Morgan's decision to include India in its Emerging Market Bond Index may wane, analysts cautioned.
Bank stocks, too, will not remain outliers in case the market sentiment fizzles out.
"Though JP Morgan's bond index decision is positive for bank stocks, the ultimate effect depends on global factors.
"If broader economic conditions, interest rate changes, or geopolitical events trigger renewed market uncertainty, it might rekindle selling pressure on bank stocks despite the index decision," said Anirudh Garg, partner and head of research at Invasset.
The US Federal Reserve's 'hawkish pause' has created a risk-averse sentiment in global equity markets.
The dollar index has risen to 105.52, while the US 10-year bond yield has hit a 16-year high of 4.5 per cent.
On their part, foreign institutional investors (FIIs) have reversed their 'Buy India strategy', leading to Rs 16,934-crore selling in the cash market, thus far, in September.
Since FIIs and FPIs hold significant stakes in banking stocks, their sustained selling may keep related stocks under pressure in the near-term, analysts added.
---
Disclaimer: This article is meant for information purposes only. This article and information do not constitute a distribution, an endorsement, an investment advice, an offer to buy or sell or the solicitation of an offer to buy or sell any securities/schemes or any other financial products/investment products mentioned in this article to influence the opinion or behaviour of the investors/recipients.
Any use of the information/any investment and investment related decisions of the investors/recipients are at their sole discretion and risk. Any advice herein is made on a general basis and does not take into account the specific investment objectives of the specific person or group of persons. Opinions expressed herein are subject to change without notice.