The jewellery industry has welcomed the government's decision to ban old Rs 500 and Rs 1,000 notes, saying gold demand will rise as people will have more faith in the precious metal than the currency notes.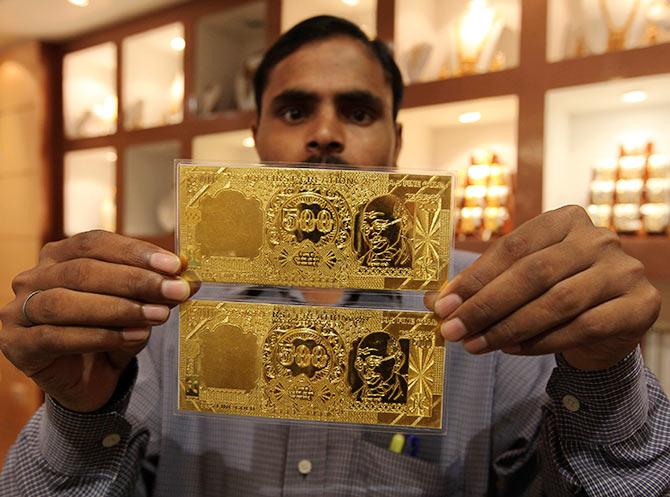 "It will create havoc for a little while and the economy will also destablise. But overall, it is going to be good for the country. In fact, the jewellery industry will thrive as people will have more trust on jewellery than currency notes," Gitanjali Gems Chairman and Managing Director Mehul Choksi said.
He said there will be crisis for some time. "If you want to buy vegetables tomorrow and you will not have notes in lower denomination, what will you do?"
Stating that there could be short-term impact, PC Jewellers Managing Director Balram Garg said, "This is a very good decision for long term especially for the organised sector. There could be impact on pure gold demand, which is good for jewellers."
Echoing these views, All India Gems and Jewellery Trade Federation (GJF) Chairman Sreedhar G V said: "This affects all industries, it will also affect the jewellery industry. We are in favour of the decision announced by the Prime Minister."
He noted: "There may be some problems for unorganised jewellers, but this will help them get organised."
About 70-75 per cent of jewellers in the country are unorganised. But 25 per cent of the organised jewellers are contributing more than 80 per cent business, he added.
Sreedhar said the industry body will not seek more time to implement this decision. India is the world's largest gold consumer and imports a sizeable chunk of its total annual consumption of around 900-1,000 tonnes.
Resale property market, small builders to be hit by note ban

Unorganised builders and secondary (resale) property market would be adversely impacted following the government's decision to demonetise Rs 1,000 and Rs 500 notes with effect from midnight, according to real estate developers and consultants.
Housing prices could witness downward pressure, helping revive demand in the sluggish housing segment, they added.
"We are moving toward the cashless economy which is a sign of maturing economy. It's a step in the right direction," DLF CEO Rajeev Talwar said.
"The blackmoney was mostly in land purchase. But in last 6-7 years, there has been no major land buying in this sector. Big builders and organised players are already using bank channel and they would gain from this decision. Unorganised players and the secondary market would be impacted," he said.
Asked about impact on real estate sector especially housing, Talwar said: "There could be downward pressure on prices, which will boost demand".
When contacted, JLL India Country Head and Chairman Anuj Puri said: "It will not have any impact on the primary residential segment as the buyer in this sector are driven by mortgage. The impact will be felt in the secondary market and the unorganised developers community where there were still cash dealing."
Terming it as a very good move, Puri said: "This decision will help institutionalise the real estate sector".
"Its a fantastic and bold move by the government. A lot of money will get into the banking systes," CREDAI Chairman Irfan Razack said.
"Listed entities and organised players will not be affected from this decision," he said, adding that there would not be much impact on housing demand and sales.
Razack, who is chirman of bengaluru-based Prestige Estates, said there could be some impact on secondary market of big cities but primary market is largely through banking channel.
Realty industry body CREDAI President Gitambar Anand said that primary market will not be impacted but resale market will feel the pinch.