Short-term capital gains tax of 30% is likely to be levied if bitcoin is held for less than three years and 20% if held for longer than 36 months.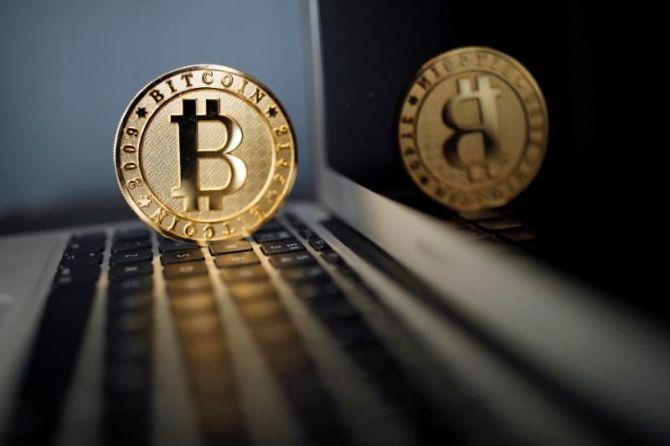 In the first such move against bitcoin dealers, the income-tax (I-T) department on Wednesday conducted surveys in Delhi, Mumbai, and Hyderabad.
I-T investigative teams began surveys to gather information related to the dealer's source of income, bank accounts, and tax liability, among others, amid tax evasion concerns.
Although a clarification from the government on bitcoin regulation and taxation is awaited, a source in the I-T department said capital gains tax must be paid on profits made from the sale of bitcoins.
"Bitconis are not recognised as currency. So, capital gains tax liability arises at the time of sale of bitcoins on gains made on it, whether held for short-term or long-term. They are not tax exempt," the official said.
Short-term capital gains tax of 30 per cent is likely to be levied if bitcoin is held for less than three years and 20 per cent if held for longer than 36 months.
Another official warned that not declaring earnings from bitcoin while filing I-T returns could attract penalty and interest.
A penalty of 50-200 per cent could be levied during assessment, under underreporting or misreporting of income. Besides, an interest of 12 per annum could also be imposed.
"The surveys on bitcoin dealers will continue for some time. We are gathering information. We are examining whether they are paying taxes - on capital gains or business income - whatever applicable," said a government official.
Central Board of Direct Taxes Chairperson Sushil Chandra told Business Standard that the department was examining bitcoin tax-related issues, but refused to share details.
Bitcoin, the first decentralised digital currency, has surged by over 1,300 per cent in value in the current year and is expected to soar in coming months as it gains popularity.
The survey by the I-T department is being conducted under Section 133A of the I-T Act, for "gathering evidence for establishing the identity of investors and traders, transactions undertaken by them, identity of counterparties, related bank accounts used, among others".
The survey teams, sources said, are armed with various financial data and inputs about the working of these exchanges.
Finance Minister Arun Jaitley had said last week that India does not recognise cryptocurrency as legal currency 'as of now'.
The Reserve Bank of India (RBI) has on three occasions warned against investing in bitcoins.
"As such, any user, holder, investor, trader, etc, dealing with virtual currencies will be doing so at their own risk," it said on an earlier occasion.
The government would soon form a committee to look into bitcoin trading and issue suitable clarification.
The committee might be led by a senior finance ministry official and would include representatives from the RBI, IT ministry and other Central government departments.
This would be the second panel on the subject of cryptocurrencies.
A committee was set up in April, headed by the special secretary in the Department of Economic Affairs, to examine the existing international framework on virtual currencies and suggest measures on consumer protection and prevent money laundering.
Photograph: Benoit Tessier/Reuters