Companies that have a net worth of at least Rs 500 crore, a turnover of Rs 1,000 crore or a net profit of Rs 5 crore are required to spend 2 per cent of their net profits on corporate social responsibility programmes.
Illustration: Dominic Xavier/Rediff.com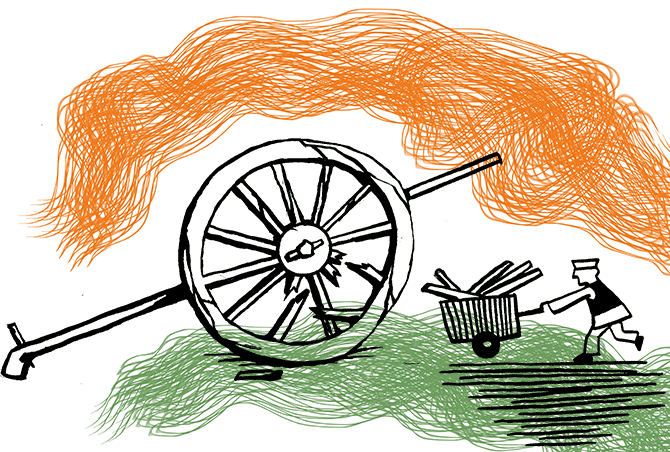 Many companies are not spending as much on philanthropy as the government has mandated.
The median company has unspent amounts equal to a third of the prescribed corporate social responsibility (CSR) spending, show disclosures from 77 companies for FY18.
The median company represents the middle value of the sample, and is broadly representative of what one can expect from the average corporate entity.
The data is based on numbers from nseinfobase.com, part of corporate tracker PRIME Database group.
There has been some improvement over the years. The majority of funds (57.66 per cent) were unspent for the median company in 2014-15. This has improved to 30.02 per cent in 2017-18.
Pranav Haldea, managing director at PRIME Database said the regulations had a loophole.
The companies are allowed to fall short of required expenditure, as long as they provide reasons for it, he added.
"Some provide reasons like not being able to identify the right projects. Others say they have not been able to set up the necessary teams to implement the projects that they want to execute themselves.
"But, it has been a number of years since the regulation has been in place, which is more than enough time for all these things to have been sorted out," he said.
Laws that required mandatory CSR came into effect from 2014-15.
Companies that have a net worth of at least Rs 500 crore, a turnover of Rs 1,000 crore or a net profit of Rs 5 crore are required to spend 2 percent of their net profits on such programs.
Madan Marathe, a social worker who has worked on CSR projects and has tracked the space said a number of companies now functioned through their own foundations.
However, companies have not yet been able to tackle CSR appropriately.
"Companies lack the necessary people and vision," he said.
Alternative mechanisms to channel these funds are slowly coming into existence.
This includes local state governments planning to use the capital to help development work.
A report entitled 'India's CSR reporting survey 2017' from consultancy firm KPMG noted that governments are partnering corporate to help various causes.
"There is growing interest among governments to use CSR as a medium for forming partnerships with corporates, leveraging CSR resources to accelerate development, and reducing disparity in backward regions," went the report.
Meanwhile, the government is looking to crack the whip. Action against a number of firms has been initiated.
Corporate Affairs Minister Piyush Goyal said the government is looking into the records of top 1,000 companies that were required to make CSR spends, noted a PTI report.
It said the government has examined 6,286 companies.
The majority of these companies spent less than required in April-November of 2016-17. A total of 2,203 firms spent more than the requirements.
Prosecution has been launched against 254 firms, according to the Parliament reply.