Since he lives locally, Harish Patel is one of the luckier migrant workers in Surat — in that his employer was able to squeeze in a single shift for him at the weaving unit in Kamrej in Gujarat — unlike others who went home for Holi and other festivals just as the second wave of the Covid-19 pandemic was waxing and ended up stranded in local lockdowns.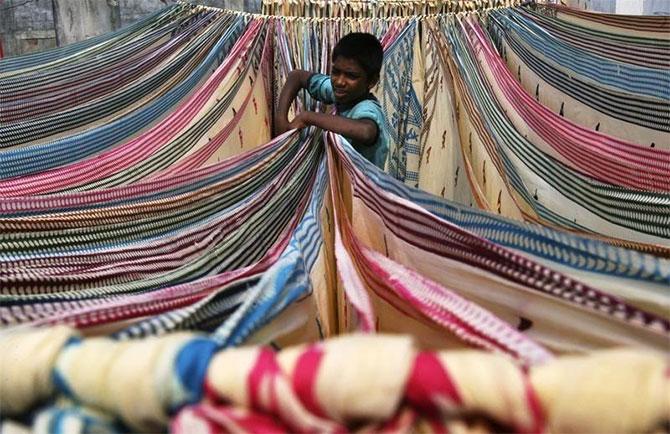 Patel's employer, Suresh Shekalia of Sandeep Textiles, did not have enough work to justify more shifts, but at least with one shift, Patel, 28, could earn something.
"Before the second wave, not only was the textile market peaking, but workers who had returned last year after the lockdown had gone back to their native states for festivals.
"Now, neither can they return nor can they be engaged at work since production has taken a hit," rued Shekalia.
Workers in his unit, divided into two shifts, used to weave 450,000 metres a month on 200 power looms.
After the second wave, it is only producing what Patel can weave.
Job losses or lack of re-employment are widespread across the textile value chain, especially in key verticals like weaving units and textile markets from where the finished goods are sold and despatched to buyers in other states.
"My friends have been wanting to come back and even my employer would like to hire them.
"But with the trading coming to a standstill, there is no alternative but to slow down production," said Patel.
Surat has a migrant worker population of between 1.2 million and 1.5 million, largely employed in textiles, followed by construction and far further down, by the diamond industry.
Most of them come from Odisha, Bihar, and Uttar Pradesh, among others. While almost 90 per cent of workers had returned once last year's national lockdown had been lifted, many went back again, and this coincided with the uptick in Covid cases, signalling a second wave.
"Local lockdowns in other states brought textile trading to a standstill and also disabled units and textile markets.
"The result was job losses. We want to keep producing. But with no buyers turning up, it is only inventory that is building up," said Shekalia.
Industry sources estimate that 400,000-500,000 migrant workers are employed by textile weaving units; another 300,000-400,000 by textile processing units; and 200,000 by textile traders at wholesale markets.
Surat has an estimated 450 textile processing units; 600,000 weaving and knitting power looms; and over 700 textile markets employing nearly half a million workers for packing and despatching finished goods from the markets.
Job losses have been uneven within the textile value chain.
Textile trading is the worst hit.
This is where merchant manufacturers buy woven and process grey cloth, get it converted into finished products, such as saris and dress material, and despatch it to buyers within and outside Gujarat.
Trading has come to a halt. Hundreds of thousands are jobless.
For merchant manufacturer and textile trader Devkishan Manghani, annual sales are down to only 30-40 per cent of a normal year.
"The second wave hit us amid what would otherwise have been a peak season of weddings, festivals, and summer vacations.
"Instead of 15-30 days, we now have over 60-90 days of inventory lying around and if interstate trading doesn't open up enough, then this inventory can run till August.
"As a result, the number of workers employed in textile trading is down from 500,000 to 300,000," said Manghani.
Yet, more than 90 per cent of textile units, especially power looms which form a crucial part of the chain, were able to more or less break even in the period between the first and second wave, thanks to the business acumen of their owners.
Babubhai Sojitra, president of the Kamrej-Laskana Weavers' Association, said the industry would have suffered huge losses but, as it turned out, yarn prices fell sharply from Rs 120 per kilo to Rs 75-80 during July-August when the country was opening up after the first lockdown.
"All the textile weaving units quickly bought huge quantities of yarn that would serve our purposes for months.
"This gave us enough profitability during October 2020-February 2021 to cover the losses incurred in the previous months and break even," said Sojitra.
As a result, the number of units in Surat's textile industry going out of business due to the pandemic has been negligible.
A similar story can be discerned in the city's other famous industry — diamond polishing. Famous for polishing nine out of 10 diamonds in the world, Surat houses roughly 6,000 diamond polishing units that employ over 700,000 workers and clock up an annual turnover of $24 billion or Rs 1.7 trillion.
At Rs 1.2 trillion, cut and polished diamond exports for April 2020-March 2021 have nearly matched the previous year's numbers of Rs 1.32 trillion in April 2019-March 2020, according to the Gems & Jewellery Export Promotion Council data.
Also, rough diamond imports have also fallen by only 14 per cent at roughly Rs 80,000 crore in April 2020-May 2021, against roughly Rs 92,000 crore in April 2019-March 2020.
Jignesh Mistry, 42, a second-generation diamond polishing unit owner in the Katargam area of Surat, explains that during last year's lockdown, the industry had enough rough diamond inventory of over $2 billion to cut and polish even though export markets were shut.
"By the time we finished servicing those old orders from the pre-pandemic era, the international markets began opening up for both rough diamond imports and polished diamond exports.
"The Customs department also made special arrangements for timely and speedy exports for the industry, which helped us prevent losses," said Mistry.
As a result, the only challenge that diamond polishing units like that of Mistry's is facing is a worker shortage.
He has 40 tables (emery wheels), where he typically employs 150 workers at full capacity.
Now he is running at 80 per cent because some of the labourers who went back to their villages around March have yet to return.
"If anything, I am looking to add more emery wheels in my polishing unit," said Mistry.
Photograph: Krishnendu Halder/Reuters