In four to five days production in the Baddi hub would touch 60-70 per cent of its capacity. As of now around 243 units are operational there.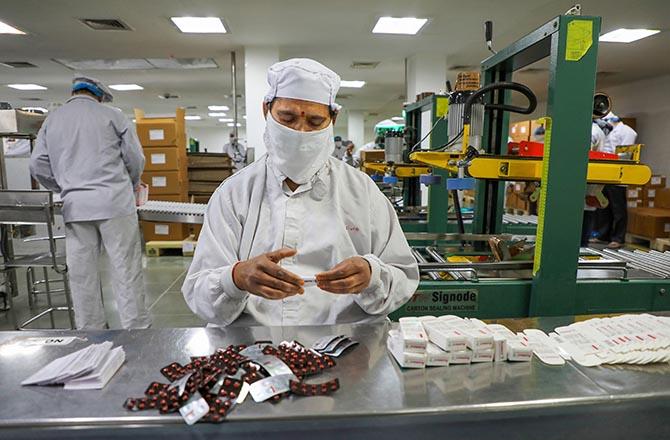 Baddi, an industrial town in Himachal Pradesh, accounting for 35-40 per cent of India's domestic pharmaceutical output, is slowly coming back to life as its manufacturing plants emerge from the containment zones and production resumes.
Moreover, in a major move, one-time interstate movement too has been allowed to enable workers stuck in Chandigarh to reach Baddi, besides permitting inter-district movement within Himachal, to get the manufacturing hub back on its feet.
A senior government official in New Delhi confirmed this and said both the drug controller and the Department of Pharmaceuticals had been monitoring the situation.
"Permission to cross the state border in Chandigarh has been given. These workers will be allowed to come and stay in Baddi," he said.
Navneet Marwaha, state drug controller of Himachal Pradesh, told Business Standard in four to five days production in the Baddi hub would touch 60-70 per cent of its capacity.
As of now around 243 units are operational there.
"All the big pharmaceutical plants, including multinationals like Abbott, Sun Pharmaceutical Industries, Zydus Cadila, and Wockhardt, are operational.
"Around 50 plants had come in the containment zone. Last week around 38 came out of it, and so did another 11 plants on Saturday," Marwaha said.
In a recent notification the state has allowed three-shift operations at these sites, he said.
Baddi was sandwiched between two containment zones of Barotiwala and Nalagarh, which were sealed after some nine Covid cases came to light.
Industry sources say the owner of a helmet-making unit died, and areas with 3 km of Barotiwala and Nalagarh was sealed eventually in the industrial hub.
Chandigarh is an hour's drive from Baddi and many of the managerial staff chooses to travel daily.
After states closed their borders, travelling became a problem.
"We have been pleading with the government to allow these workers to reach Baddi, or else the normal functioning of the hub would be affected," said Sudarshan Jain, secretary general of the Indian Pharmaceutical Alliance, an industry body that represents big pharmaceutical companies.
Around 45 hotels around the Baddi industrial zone have been taken up by pharmaceutical companies, said an industry insider.
"We are housing some of our employees at the plant, while the others will stay in nearby hotels," said a senior official of one of the largest firms.
Marwaha pointed out industrial units in Baddi must hire 70 per cent of the staff on the floor locally.
"This eases interstate travel requirements. However, many workers come from different districts of Himachal Pradesh.
"So the state government has allowed interdistrict travel now," he said.
Baddi getting back on its feet is important because it is a major supplier of medicines to the domestic market.
There are around 51 licensed units that make hydroxychloroquine, a drug that is being used as a prophylactic against Covid.
Of those, around 14 are operational, said Marwaha.
The Department of Pharmaceuticals is regularly hosting videoconferences with state drug controllers of India's major pharma hubs.
Gujarat, for example, has asked most of its pharma firms to house the workers as much as possible in the plant or in nearby schools or hostels.
"We are functioning at 70-75 per cent capacity and this will grow in the coming days. We have even issued curfew passes to food vendors who deliver food to workers staying at the sites," said H G Koshia, state drug controller, Gujarat.