As several premium hotels such as ITC, Taj and Oberoi reopen after the lockdown in cities such as Bengaluru, Kolkata and Hyderabad, many changes have been made for the safety of guests and staff including temporary closure of spas, bars, gyms, and swimming pools.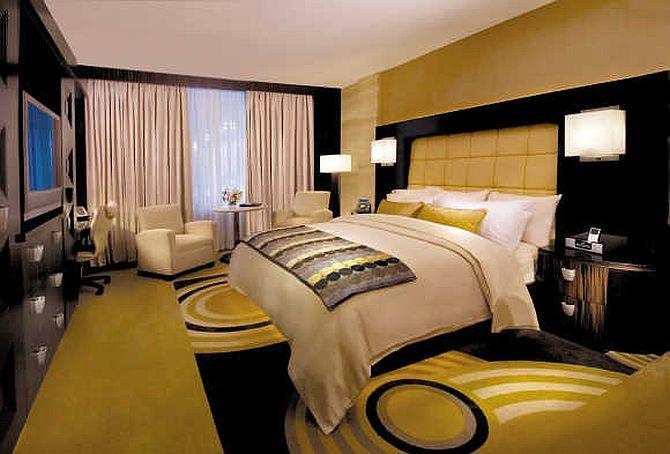 UV room to sanitize cutlery and crockery, immunity drink and meals on menu cards and up to 48-hour deep cleansing after guests vacate rooms are the new normal in luxury hotels from Monday.
Also, forget about a drink at the bar, taking a swim, buffet lunches or even a treadmill workout as hotel chains prepare to open amid a touchless five-star experience.
As several premium hotels such as ITC, Taj and Oberoi reopen after the lockdown in cities such as Bengaluru, Kolkata and Hyderabad, many changes have been made for the safety of guests and staff including temporary closure of spas, bars, gyms, and swimming pools.
Along with mandatory temperature checks, the 20-floored ITC Gardenia in Bengaluru will now greet you with a splash of sanitizer on your vehicle and luggage instead of a welcome drink.
While valet parking has been done away with, the usual entrance doors have been replaced with contactless sensor-based doors.
According to Nakul Anand, executive director at ITC, "At the hotels, the new definition of service would be seldom heard, seldom seen, never touched and always felt."
As you walk into Bengaluru's Gardenia with soft green interiors, cue marks in the shape of blue footprints to maintain social distancing of six feet can be seen on floors.
Glass panels have been put between the reception associates and guests who will hand over a kit comprising a bottle of sanitizer and mask along with the room keys once the fully digitised check-in is done.
Some 170 staff, including managers, chefs, engineers and housekeeping staff, will be staying on the hotel premises to serve the guests.
Like ITC, the Indian Hotels Company (IHCL), which operates more than 200 hotels under the Taj, Vivanta, SeleQtions and Ginger brands, will also process check-in and check-out formalities digitally for contact minimisation.
Common and high-touch areas of these hotels such as lobbies and elevators would witness more frequent and industrial strength disinfectants as part of an escalated cleanliness routine.
While all associates will be in PPE attire all the time, guests will have to wear masks if they venture out of their rooms.
Oberoi Hotels & Resorts, which operates 33 hotels under the Oberoi and Trident brand, is collaborating with Bureau Veritas, a global laboratory testing and inspection company to validate special operating procedures.
Lemon Tree hotels have tied up with Johnson Diversey for sanitisation.
While facilities inside rooms have been retained, the menus and service directories have been replaced with QR code-based menus at 5-star hotels.
A guest needs to scan the QR code using the cellphone camera and all room service options will pop up in front of him.
ITC Hotels have come up with a Knock n Drop feature for room service.
Guests who opt for this will get their food in disposable brown boxes outside their rooms in paper bags to avoid any contact with butlers.
The traditional cutlery, glassware and linen will come packaged after washing and sanitising them in UV-based devices.
"We are also setting up a UV room to sanitize and package the cutlery and linen," said Amaan Kidwai, general manager, ITC Gardenia.
After check-out of a guest at ITC hotels, the room will be sanitized and blocked for 24 hours before handing it over to the next guest.
At Oberoi hotels, rooms will be kept vacant for 48 hours and then allocated.
The seating arrangement in restaurants have also been modified to maintain social distancing.
The chefs at Oberoi hotels have developed menus comprising immunity building wellness dishes and drinks.
At IHCL hotels, restaurant menus will largely be digital or single use, with greater emphasis on wellness-oriented food sections for healthier meals and greater level of immunity.
ITC Gardenia has also reduced the seating capacity at its restaurants by up to 60 per cent and has brought in glass separators on wheels for customers who seek extra caution.
The services at its Cubbon Pavilion restaurant can only be availed from 7 am to 9 pm as compared to 24x7 earlier.
If a guest starts showing Covid-19 symptoms, doctors are being kept on standby at Oberoi hotels.
ITC Hotels will refer such guests to the nearest hospital and all the waste from that guest's room will be handled by a biohazard vendor.
Some of the hotels, including ITC Kakatiya and Taj Falaknuma in Hyderabad operated even during the lockdown period to serve stranded guests.
The city has around 14,000 rooms among the luxury category hotels.
"The hotels have also taken steps to reduce interaction between the staff and the guests by almost 50 per cent so that the chances of contracting infection inside the hotels is reduced to a near zero level," said Ashok Hemrajani, president of Hotels and Restaurants Association of Telangana State, which represents star hotels in the state.
According to reports, the hotel industry is expected to suffer a loss of Rs 90,000 crore this year because of the pandemic.
Even after stringent protocols in place, industry insiders say while F&B services could see traction at hotels, room accommodations will be slow as corporate are not talking about events and travels at least before September.
Image used for representation purpose only.
Photograph: Jason Lee/Reuters