Gimmicks such as appointing high-profile brand ambassadors like Sachin Tendulkar and his ilk or issuing "challenges" to sundry people have scarcely convinced the no-changers so far, says Kanika Datta.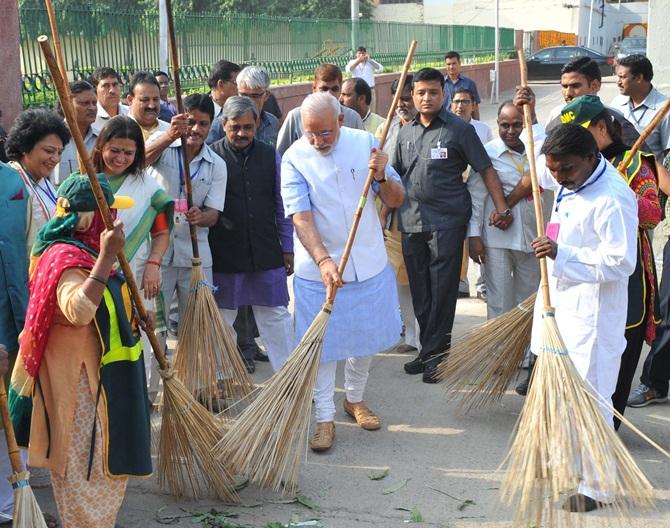 IMAGE: Swachh Bharat's underwhelming performance is due to poor public understanding of the importance of sanitation and hygiene. Photograph kind courtesy: Press Information Bureau
What would a company do if a key project underperforms?

Typically, the management would start a forensic exercise to figure out the glitches and then work out ways to fix them.

If the solutions are unworkable, the project is usually scrapped or sold.

What does the Narendra Modi regime do when its pet programme, the Swachh Bharat Abhiyan, gets a middling ranking of 10 among 15 government initiatives in a massive multi-lingual online-cum-phone survey to mark its second year in power? It hires a public relations firm.
MSLGroup, the firm appointed for the job, is one of several agencies empanelled under the Digital India umbrella.
It is a Publicis Groupe company with a reputation for decent work and, in that sense, its appointment for this mandate cannot be faulted.
The real problem is that in opting for a publicity campaign, the government has read the wrong signals from the survey and may well be spending the tax-paying citizen's money, raised via a two per cent cess, not wisely but too well.
The survey, an opinion poll covering over 2,68,843 participants gave Mr Modi's "proactive foreign policy" the highest rating.
Maybe the saturation coverage accorded to these visits – the mainstream media did its bit backed by the unflagging social media efforts of the government and assorted acolytes – suggested the efficacy of a sustained PR outreach exercise for Swachh Bharat, the ambitious programme to make the country free of open defecation by 2019.
But Swachh Bharat's underwhelming performance is not the result of poor public awareness of the programme but poor public understanding of the importance of sanitation and hygiene, period.
This has, no doubt been helped by the tardy progress in the toilet-building programme - in rural areas under 10 per cent of the target had been met at the end of the first year of October 2015.
Ergo, if the government has money to spend on building perceptions for Swachh Bharat to make it successful, it is spending it on the wrong constituency.
It is well known by now that India holds the dubious record of accounting for 60 per cent of open defecation in the world not only because it lacks sufficient toilets for people to use but also because most Indians are not convinced of the need to use one even if they own one. These are the people who urgently need to be educated in the benefits of toilet usage.
This was one of the standout findings of a survey by Research Institute for Compassionate Economics some years ago.
Given this government's aversion for civil society organisations, it need not rely on inconvenient truths from this foreign-funded research outfit.
An enormously informative site sponsored by the ministry of environment, forests and climate change reproducing data from the Swachata Status Report of May 11, 2016, will tell the government why people don't use toilets, especially in rural India, source of the greatest open defecation.
A colourful pie-chart reveals that more than 63 per cent of the reasons rural Indians don't use a toilet concerns basic infrastructure problems, such as the lack of a superstructure, lack of clean water, and malfunctioning latrines.
That statistic alone should make the government pause – as any company would do and Mr Modi likes to think of himself as India's CEO – and take stock of the quality of work its contractors are turning out.
Signs of rank malfeasance are surely embedded in these facts. So this issue clearly needs to be fixed first.
Other than that, nearly 23 per cent said they did not use a toilet out of personal preference. There are a host of cultural and practical reasons for this peculiar attitude to which even people in sub-Saharan Africa and other parts of South Asia do not subscribe.
One principal reason has to do with the deficiencies above.
Rural people think government-built toilets are unclean because they do not provide solutions for overflowing cess pits.
Private sector companies that have invested in toilet-building programmes as part of their CSR mandate say social reasons also account for the reluctance: apparently the "morning job" is a sociable group activity in rural India.
Others say the notion of having a toilet within the homestead is insanitary.
Maybe cess-collected money could be spent on a survey asking non-users why they prefer open defecation, after which a campaign can be designed by any global PR firm the government wants to specifically address these concerns.
Gimmicks such as appointing high-profile brand ambassadors like Sachin Tendulkar and his ilk or issuing "challenges" to sundry people have scarcely convinced the no-changers so far.
A high-profile PR campaign is unlikely to do so either.
Swachh Bharat can make this government electable if it is able to achieve a noticeable reduction in open defecation.
Like its low-profile and equally underperforming predecessor Bharat Nirman, it is too critical a programme to be reduced to frivolous solutions.