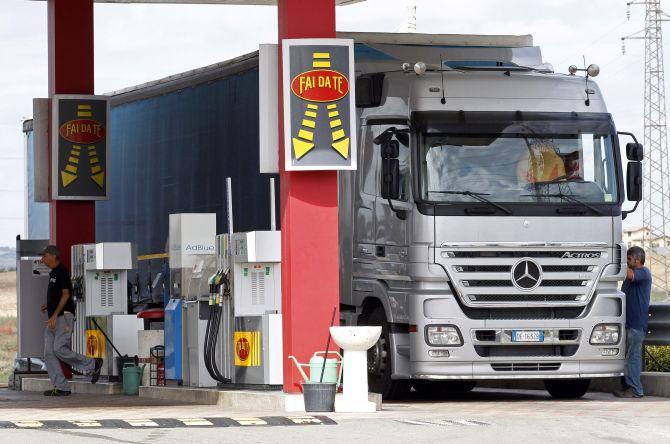 If international crude prices drop by another $5-10 per barrel to around $70-75 levels, the excise hike will hardly be noticed by consumers, since retail prices will be reduced anyway, says Devangshu Datta.
The hike in excise duties on petrol and diesel came as a mildly unpleasant surprise for the market. It seems a reasonable thing to do at the moment, despite the political sensitivity. The economic recovery has been weak and gradual through April-October.
Tax collections have improved only marginally in the first half of 2014-15. Indirect taxes are up by less than 6 per cent. Note that these are nominal numbers. If we adjust for inflation, overall indirect tax collections are lower in real terms than in 2013-14.
Excise collections, which are generally seen as an indication of manufacturing activity, declined by 1.2 per cent during the April-Oct period to Rs 88,330 crore. The anticipated realisation from the petrol and diesel hike is of the order of Rs 6,000 crore, which will compensate.
Global crude oil prices appear set to trend even lower, despite the onset of winter fuel demand.

If international crude prices drop by another $5-10 per barrel to around $70-75 levels, the excise hike will hardly be noticed by consumers, since retail prices will be reduced anyway.
The market reacted with a kneejerk sell-off in PSU refiners/marketers. Cairn has also got hit but the sell-off in Cairn is rational.

First, because of the "financial reengineering" within the Vedanta Group and also because Cairn's revenues and profits are directly correlated to international the crude oil price. ONGC and Oil India could eventually suffer from similar perceptions as Cairn's since realisations are tied to international prices. But the PSU oil producers gain if the oil-pool subsidy reduces.
The sell-off in PSU refiners-cum-marketers doesn't seem natural unless we assume that this is just profit-booking in stocks that have run up a lot. The hike is revenue-neutral since it's being passed on.

The government isn't re-imposing price controls. There will be no underrecoveries caused by this. Demand in fuel is price-invariant to a large degree. There is no fear this will prompt a dip in consumption.
Overall, lower crude prices should be very beneficial to the refiner-marketers. Of course, it should help India at the macroeconomic level. It should help the transport sector and maybe enable some recovery in the fortunes of Indian Railways. Less intuitively, it should help private telecom operators since they are all very large consumers of diesel.
Coal producers will see lower prices since international coal and crude price correlate. Several power producers are looking at coal imports.

Coal India is also committed to meeting shortfalls in guaranteed supply via imports. But of course, there are all sorts of complex policy changes in that sector, what with price-pooling and re-allocation of blocks.

Apart from oil producers, the real losers may be renewable energy plays, which will be less competitive against lower priced fossil fuels. The crude trends are fascinating because the international commodity markets are pricing many assumptions.

Demand will remain soft because China is slowing down and Europe is barely afloat.

The US is meeting a larger chunk of its own demand by developing tight gas and oil through fracking. One assumption is that demand will not suddenly zoom because of a sharp winter that causes central heating demand to spike up.
Another assumption is that the Russia-Ukraine stand-off will not escalate. If it does, the Russians will probably be hit by more sanctions and find some way of retaliating. The easiest retaliation could be for Russia to cut off supplies of gas and crude oil to Western Europe. That would alter equations especially if it happened in the depths of a cold winter.
A third assumption is that ISIS will not further disrupt the supply-demand equations in the West Asia-North Africa region. If fighting with ISIS leads to the loss of a significant portion of Iraqi production, there may be a problem with that assumption.

To balance that, Iran might return as a big exporter if there is some progress in the endless negotiations about easing sanctions. These are all critical assumptions and it's difficult to be highly confident about any of them.

When these are modelled together, the confidence level shrinks even more. But if the market is correct, this is also a near-ideal situation for India to repair its official balance sheet.

The current account deficit should come down and the trade deficit will surely decrease. The fiscal deficit should come down. Fuel subsides could be cut. Such a situation could lead to payoffs across several different sectors.