The government's decision to stop surge pricing by app-based taxi companies Uber and Ola ignores the basic principles of economics to appease a vocal section of the vote bank, point out Abhijnan Rej & Prashant Kumar.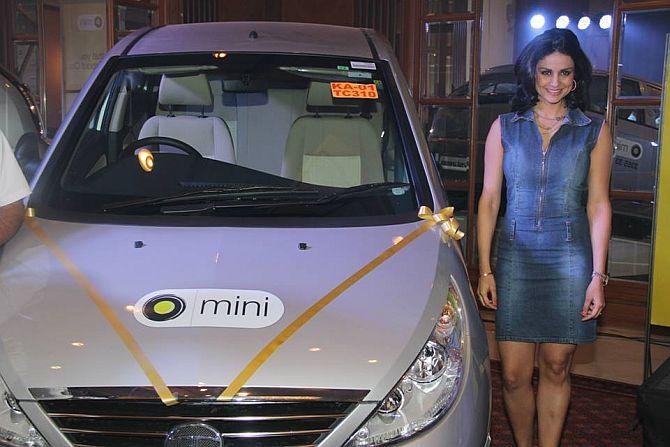 When government intervention is based on a failure to understand the basic tenets of economics and/or to pander to vote banks, it is necessary to call it out.

The Delhi government is at it again and by doing so, it is inadvertently signalling to the world that it is clearly not open for business.

This week's announcement - or rather threat - to app-based taxi companies Uber and Ola to cancel surge pricing or have their cars impounded is yet another example of how Chief Minister Arvind Kejriwal is willing to overlook the basic principles of economics to appease a vocal section of his vote bank.

As much as Kejriwal may want Delhi's citizens to believe that he represents the aam aadmi, this new announcement should cement his position as another uninformed politician.
The timing of this announcement is suspect. With the second phase of road-space rationing (odd-even) being conducted in the city, a steady supply of transport vehicles to allay any disruption to lives and livelihoods is necessary.

For Kejriwal to issue such a diktat at this time is straddling a fine line between incomprehensibility and inconvenience.

Cancelling or capping surge pricing will not only lead to a disruption in cab services in the city, it is also poised to meddle with livelihoods that are dependent on these transportation services.
There is very little economic thinking to back Kejriwal's activism.

The first thing to understand about surge pricing - dynamic pricing being the more technically correct term-of-art - is that it is based on sound economic theory.

The basic idea is this: app-based services match demand ("riders") with supply ("taxis"). Both are variables, depending on external factors such as time of day, location of pick-up and drop-off, as well as traffic conditions.

Thus, if high demand exists in one area without matching supplies, Uber's (and Ola's) surge/dynamic pricing mechanism ensures greater supply to meet an increase in demand.

What apps like Uber (or Ola) do is perform a market-clearing function by doing so dynamically.

Incidentally, the economics behind matching is what earned game theorists Alvin Roth and Lloyd Shapley their Economics Nobel in 2012.
There is no "catch" in dynamic pricing: the app acts as a signalling mechanism for both drivers and riders, much in the same way marriages match partners based on individual preferences on both sides.

Developing and automating a dynamic-pricing mechanism is, intellectually, a challenging task.

What makes Uber and Ola what they are (and other services like airlines and Airbnb, which works on a similar mechanism) is the development of this algorithm and building a platform around it.

The fares set by these apps are based on pure-play demand and supply. To implicitly portray these apps as gouging the public is to not understand - or accept - how markets work.

It is to negate Economics 101 - a course Kejriwal would be well advised to take before he sets about the task of distorting markets.
There are deeper issues that drove this announcement than just a failure to understand basic economics.

By demanding the cancellation of dynamic pricing, the signal the Delhi government has sent is that if the private sector wishes to operate in Delhi, it is subject to government interference and control, should the core Aam Aadmi Party (AAP) vote banks be troubled.

Additionally, while this move will surely affect Delhi drivers, it has consequences for drivers operating, and commuters living and working on Delhi's periphery.

Without dynamic pricing, which allows drivers from outside the city to compensate for the long distances, the number of taxi operators coming into the city from these areas would be limited; it would also push existing supplies towards areas where no such laws exist.
Beyond Kejriwal's crypto-socialism - which includes the belief that distorting market mechanisms will benefit the proverbial "Mango People" - there is a larger political game at play here, which revolves around his pandering to taxi unions and auto-rickshaw drivers.

The latter is a large vote bank, which is demanding a revision of fares.

The odd-even experiment would directly benefit this section by increasing public dependence on public transportation.

In the short run, the collapse of private companies like Uber and Ola will give these unions the opportunity to regain monopolistic tendencies - the same tendencies that gave many taxi and auto operators powers to arbitrarily set prices based on distances, time and moods.

In the long run, by clamping down on app-based taxi matching services, Kejriwal's calculation is to force the public to accept the proposed fare hikes for auto-rickshaws in the event of the odd-even formula becoming permanent.
Taxi unions have lost the public relations battle they waged with Ola and Uber on specious public safety grounds. Kejriwal's fiat against dynamic pricing models is calculated by AAP cohorts as a body blow to the app-based business model.

Ultimately, the public will have few options - if Uber or Ola fails - but to rely on the notoriously fickle auto- and taxi-wallahs of Delhi.

Kejriwal's gambit is that in the name of the environment and consumer protection, the AAP's support base would be placated.

This, at the end of the day, is an archetype of how retrograde politics compromises public interest.
Abhijnan Rej is a fellow and Prashant Kumar is an associate fellow at the Observer Research Foundation, New Delhi.