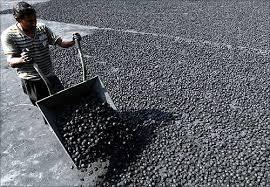 The Supreme Court on Monday held that all coal block allocations made since 1993 till 2010 before pre-auction era during previous National Democratic Alliance and United Progressive Alliance regimes have been done in an illegal manner by an 'ad-hoc and casual' approach 'without application of mind'.

However, the consequences arising from the verdict of such coal blocks will be considered after further hearing by the apex court.

The apex court, which examined the allocation of 218 blocks, said "Common good and public interest have, thus, suffered heavily" as 'there was no fair and transparent procedure, all resulting in unfair distribution of the national wealth.'

A bench headed by Chief Justice R M Lodha also held that "no State Government or public sector undertakings of the State Governments are eligible for mining coal for commercial use".

The bench also clarified that there was no challenge laid before it for cancellation in respect of blocks where competitive bidding was held for the lowest tariff for power for Ultra Mega Power Projects in accordance with the opinion given in Natural Resources Allocation Reference.


However, it said "having regard to this, it is directed that the coal blocks allocated for UMPP would only be used for UMPP and no diversion of coal for commercial exploitation would be permitted".
The bench, also comprising justices Madan B Lokur and Kurian Joseph, said as allocation made both under the Screening Committee route and the Government dispensation route, are arbitrary and illegal, further hearing was needed to deterimine the consequences for which it would hear the matter on September 1.
"As we have already found that the allocations made, both under the Screening Committee route and the Government dispensation route, are arbitrary and illegal, what should be the consequences, is the issue which remains to be tackled.
"We are of the view that, to this limited extent, the matter requires further hearing," the bench in its 163-page judgement said.
After the pronouncement, the bench orally said though the Attorney General had given the figures of coal blocks, they were not verified and even the state governments had raised objections.
These issues have to be gone into, the court said while suggesting that a small committee comprising retired Supreme Court judges can be set up to give its report on the issue in the shortest possible time.