Mittu Chandilya wants to bring a new meaning to flying for Indians.

Thirty three year old Mittu Chandilya will take charge as the chief executive officer of AirAsia from June 1 making him amongst the youngest head of an airline in India.
Aditya Ghosh, who is the president of rival low cost airline IndiGo, was 32 years old when assumed the post in 2008.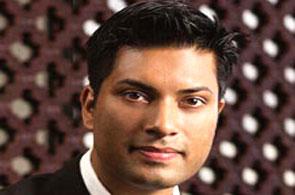 "Mittu is coming home to change Indian travel and make it affordable for all Indians to fly, " the airline's group CEO Tony Fernandes tweeted today. AirAsia which is launching a joint venture airline with the Tatas and Arun Bhatia of Telestra Tradeplace has applied for a no objection clearance from civil aviation ministry to start domestic service and Chandilya will be involved in all aspects of operations, strategy and marketing for the airline.
Fernandes is known to select executives from non aviation backgrounds to head his airlines. Azran Osman-Rani, CEO of AirAsia X was a senior director of television channel while heads of his airlines in Thailand and Philippines worked in Warner Music before joining aviation. Chandilya too has not worked in airline but has knowledge and expertise about the sector through his stint as Principal and head of service practice at management consultancy firm Egon Zehnder in Singapore.
"Mittu has always been a passionate follower of the aviation industry,'' Air Asia said in a statement.
In his statement Tony Fernandes said, "He is an outstanding young man with great entrepreneurial skills. He is very passionate about the LCC business and possesses the crucial understanding on how our business model work.''
Chandilya said "I am a native of Chennai, and I am excited about returning to India to revolutionize the air travel industry here. I am looking forward to being part of the dynamic AirAsia family, and most importantly, to bring a whole new meaning to the word 'flying' to consumers in India."
"Challenges are immense but so is the opportunity. Leadership wih equally focussed team is the key,'' Centre for Asia Pacific Aviation's Kapil Kaul said on the new appointment. AirAsia which hopes to start with 2-3 airbus A320s will be face tough competition from low cost airlines IndiGo, SpiceJet and GoAir which control over 55 per cent market share. Sector analysts too expect AirAsia not to make a major impact in its initial phase.
"It will be interesting to see him try out innovative solutions in the Indian aviation market which has several unique challenges of its own. He may connect well with the aspirations of India's growing base of young flyers and Airasia's young workforce,'' said Amber Dubey, partner and head aviation at KPMG.
Chandilya who holds a science and economics degree along with a MBA qualification also made a mark in fashion world . Last year readers of a fashion magazine in Singapore elected him for the A-list award for style and elegance from amongst 300 participants.