On a daily basis, an average cash logistics company transports Rs 5,000-8,000 crore worth of cash nationwide.
Illustration: Uttam Ghosh/Rediff.com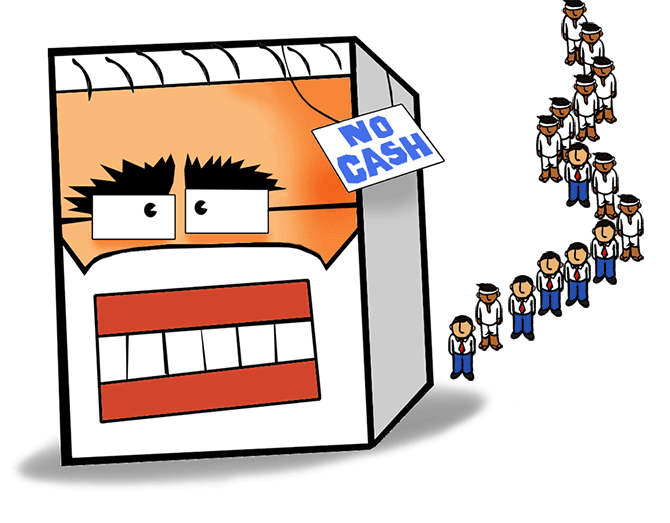 The security and operations head of a Delhi-based cash management and logistics company was in an animated conversation with his team Wednesday morning when Business Standard approached him to understand the universe of automated teller machines (ATMs), which are flashing the no-cash sign all over again.
"We made the mistake of allowing television news crews in here during demonetisation," he said while teaching the staff how to load and unload cash in ATMs.
Working in secretive and guarded environment, cash management firms have always remained in the background, though demonetisation of November 2016 changed that for a brief while.
With reports of ATMs drying up across states surfacing again, this newspaper chased many logistic companies and finally spent half a day with key personnel of one such firm in the capital.
Showing the operations in a guided tour, the company president cautioned, "No names please, neither the company, nor any of us."
This was one of the largest cash management companies in India, with armoured vans sporting its logo all around.
The secrecy shows right from the entrance.
There is just one access point, through a narrow bylane. The single turnstile gate is operated with access cards. Thorough security drill follows before you are inside the premises.
Transporting cash
The transportation of cash is typically divided into three parts.
The first part involves cash from mints, where notes are printed, to RBI offices and currency chests of banks in different cities.
A tier I city like New Delhi or Mumbai would have around 15-20 chests.
The cash logistics companies are not involved in this phase.
"You see those big trucks on highways at night? Some of them could be full of cash. They are guarded by central or state forces. Sometimes even the driver won't know what is in the cargo bay," the makeshift guide said.
The second and third parts, where private sector logistics companies are involved, are cash-in-transit (chests to bank branches), and cash replenishment (bank branches to ATMs).
For cash-in-transit, a company rents out its armoured vans - along with drivers, handlers and security personnel - to banks.
The vans carry cash from chests to various branches, as well as from the branches to the chests at the end of the day.
It is in the chests that cash in sorted into three categories: cash which can be put into ATMs, cash which can be used over-the-counter, and cash which is completely soiled and cannot be put back into circulation.
For cash replenishment, logistics companies aren't hired by banks but by managed services providers (MSPs), which manage and maintain ATMs on behalf of the banks and other financial services companies.
"Say, an MSP issues a requirement to load Rs 2 crore in 100 ATM locations of Bank XYZ.
It will issue an indent to us and to a designated branch of Bank XYZ.
The employees in that branch check their indent against ours and Rs 2 crore is loaded onto our vans, which then take the cash to those 100 ATMs," the operations head explained.
How money travels
The Reserve Bank of India (RBI) chalks out the requirement for currency notes before the start of the financial year
The requirement is then communicated to the government
When the government gives permission to RBI, the central bank raises 'indent' or order for printing specific bank notes to four presses
Papers for banknotes were earlier procured from overseas but now the material is supplied locally
The security features are installed by the mills first and then sent to the printing presses
The printed notes are sent to RBI's 19 regional offices
There are 4,000 currency chests where the notes are kept
RBI then raises a voucher for the notes needed
Banks raise their demand for cash with RBI's regional offices
RBI then sends money to banks
Banks keep the money in their currency chests and engage cash management firms to fill the ATMs
ATM service providers do a daily calculation of cash required at night for the next day, called indent
Banks validate the indent and the cash is transferred to the bank branch linked to that ATM
These bank branches generate their own cash and in case of shortage, they borrow from currency chest
Cash management companies transfer cash from branches to ATMs
The companies fill up the ATMs with four 'cassettes', which can hold up to 2,500 notes each
The money is dispensed when customers use their card
Security modalities
A typical cash van has an in-built vault, is covered in basic armour, and can carry up to five personnel, a driver, two handlers, and two security guards.
The security personnel are mostly hired raw and then trained in procedures and firearms.
Only rarely are ex-police or services personnel hired, as they are more expensive.
On a daily basis, an average cash logistics company transports Rs 5,000-8,000 crore worth of cash nationwide.
This company also has its own chests in various locations, as some of the foreign banks which do not have such facilities prefer to park their money in these chests.
Not surprisingly, transporting cash is a high-tech affair.
A huge central control room has large LCD screens covering an entire wall.
There are rows of people monitoring the movement of each and every van the company operates.
(This company has 10,000 vans). Huge maps of India with moving red dots are splashed on the screens.
Not only that, the vehicles are geo-fenced too. That is, the vans follow predetermined routes and any deviation will result in the driver getting a call from the control room.
All of the company's vans across the country can be immobilized and brought to a stop from the control room in Delhi in case of an emergency, after which local law enforcement is notified.
What do the cash logistics people think of the RBI and the government's contention that the latest round of cash crunch is a logistical issue?
"Our business is to transport money. That is how we earn revenues, from banks and MSPs.
"The more efficient you are, the more clients you secure. Why would we create delays from our end," the president replied and moved on to the job at hand.