Safety standards are thrown to the wind as government urges consumers to use mobile wallets at petrol pumps, Shine Jacob & Karan Choudhury/Business Standard report from New Delhi.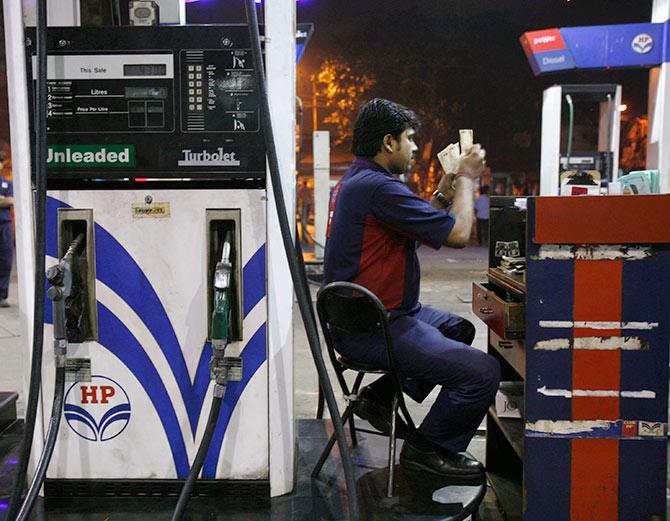 IMAGE: From December 2, the share of cashless transactions through petrol pumps has increased to 44 per cent from 20 per cent before demonetisation. Photograph: Parth Sanyal/Reuters

If you are using a mobile wallet to pay at petroleum retail outlets you may be helping the government in moving to a less-cash or digital commerce-based economy but this comes at the cost of safety. Mobile wallet applications are available on cellphones, which are prohibited from being used at petrol pumps, as these might cause sparks, leading to major mishaps. The use of wallets, therefore, is a major cause of concern for many experts.
While mobile wallets as well as oil marketing companies are claiming that they follow all safety norms and no mishap has happened as of now, experts believe that should not be the reason to allow cellphones at petrol pumps.
"Going cashless may be advantageous for the economy, but if you are using a mobile phone within a petrol pump's premises, it may cause a catastrophe," said a senior executive from a public sector undertaking.
Safety guidelines on the website of Hindustan Petroleum Corporation quote Petroleum and Explosives Safety Organisation (PESO) rules and state in capital letters, "SWITCH OFF Mobile Phones within Petrol Pump premises".
When asked about this, a spokesperson of Indian Oil Corporation said, "Now, we have about 12,000 petrol pumps using the mobile wallet facility. But we have given instructions that payments should not be made in the pump island (six metres within the fuel dispensing unit)."
He said the company believed that all the retail outlets were following this. Mobile wallets such as Paytm and Freecharge, which are accepted at a majority of the petrol pumps and have tie-ups with all the major oil marketing players, claim that a sizeable amount of time is being spent at filling stations to sensitise staff about PESO rules and the exact way of accepting payments.
"We ensure every member of the field staff at fuel stations accepting Paytm is trained in transacting either at a safe distance as specified by PESO or at the sales office," the Paytm spokesperson said. Routinely, he added, Paytm ground training staff conducted spot checks at petrol pumps.
One of Paytm's biggest competitors Freecharge, on the other hand, has created an in-app feature that helps it avoid the use of mobile data or a cellular connection to make payments.
"The Freecharge app also works without any Internet or telecom access. The on-the-go PIN, which is available on the app itself, makes it safe and convenient for use at places, where phone usage is restricted or network is not available. The PIN is generated in the app itself and renews every 180 seconds and, thus, multiple transactions, including at fuel pumps, can be done in a safe manner," said a Freecharge spokesperson.
"A user can put the phone on flight mode, which cuts data as well as telecom connectivity, and use the mobile phone safely," the spokesperson added.
"We have been asked to conduct these mobile transactions outside the 6 meter range. All retailers have to be careful about these payments," said Ajay Bansal, chief of the All India Petroleum Dealers' Association.
From December 2, the share of cashless transactions through petrol pumps has increased to 44 per cent from 20 per cent before demonetisation. However, between November 8 and December 1, the use of cashless transactions dropped to 13-15 per cent because petrol pumps were accepting old Rs 500 and Rs 1,000 notes.