The corporate sector took production cuts, conducted inventory management and reduced staff to meet challenges following the govt's note ban decision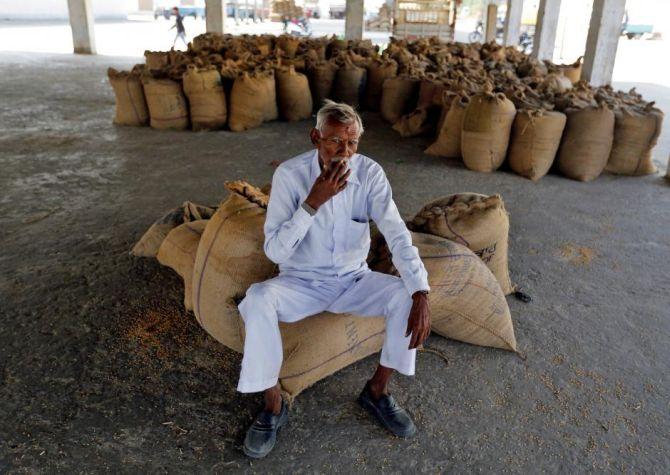 Image: A farmer smokes while sitting on sacks of paddy crops as he waits for customers, one week after the Indian government withdrew the circulation of high denomination banknotes, in Sanand village on the outskirts of Ahmedabad. Photograph: Amit Dave/Reuters
A day after Prime Minister Narendra Modi had announced the shocking currency ban on November 8 last year, a CEO of a large textile company called a meeting of his core team in his Mumbai office.
The agenda was to discuss how to handle the currency ban in such a way that it should not impact his company's sales.
The meeting, which included the chief financial officer and chartered accountants, made a plan on how to ring fence the company from any negative impact of the currency ban.
"All our plans flopped… our sales for the next six months declined sharply as a large component of the supply chain of textile business is in cash," the CEO said.
"There was nothing that we could do but to accept the fact that doing business in India is full of uncertainties," the CEO said asking not to be quoted.
Soon after demonetisation was announced, the corporate sector took production cuts, conducted inventory management and reduced staff to meet the challenges that followed.
These steps were important as they had expected the negative impact to continue for few more quarters.
"As soon as we were recovering from the currency ban, the goods and services tax (GST) has hit us. So for this financial year (2018) also we would end posting losses like fiscal 2017," he said.
The textile CEO is not alone in his misery. It was not only the large companies, the currency ban also broke the back of many mid-sized firms as well.
The rollout of the GST just made things worse for them.
The currency ban hit Indian companies at a time the economy was just looking up. Some of the companies in retail, consumer products and rural areas were hit so badly that they could not recover for six months.
There are many examples how Corporate India used its network to get rid of its cash.
A large indebted company, which had defaulted on giving salaries for four months before demonetisation, gave three months salary in old currency so that the employees can deposit it in their accounts.
Another company, which had close ties with private banks, summoned top bank officials in their office to get rid of the old cash.
Many suppliers were happy that they received their payments in advance from their corporate customers.
"Earlier, we used to get our payments six-eight months late. But as soon as currency ban was announced, the next day we received all our dues.
As the client was a big customer for us. We accepted the cash and deposited the money in our account as it was a legitimate payment for us," said a supplier to a large retail chain.
According to head of a large infrastructure company, the note ban stalled work in key sites as there was currency shortage.
Cement companies reported that after demonetisation all-India volumes declined in the range of 20-25 per cent in November-December 2016, as rural housing grind to a halt.
"All of us would like to forget the demonetisation chapter in our life. We now pin our hopes on the next Budget to compensate us for the losses."