Many PSBs are in the process of rationalisation of ATMs
Illustration: Uttam Ghosh/Rediff.com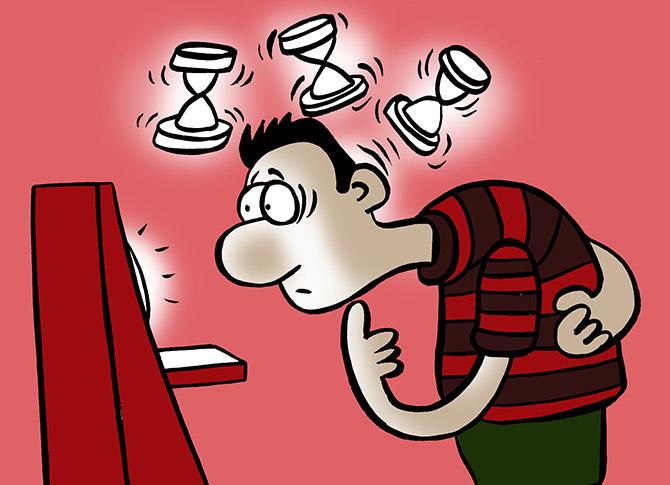 In Kottayam, a housewife received an email communiqué from Corporation Bank, a Karnataka-based public sector bank (PSB), that due to server issues, all automated teller machines (ATMs) are 'down' and debit card transactions were getting declined.
"Customers can come to the branch with cheque and withdraw cash for the time being," it said.
After finishing his work at the Madras high court, S Rangarajan went to his oft-visited nearby restaurant at Parry's Corner, one of the busiest markets in Chennai, to have coffee with a snack.
When he gave a Rs 2,000 note towards his bill, the cashier refused it saying he did not have change.
After a brief argument, the cashier decided to let him go without paying - knowing him personally, the cashier was sure about getting the money sooner or later - since Rangarajan could not manage change from nearby shops.
In another instance in Chennai, a customer of a PSB tried to withdraw cash from an ATM, but he could not.
Upon calling, the Customer Care advised him to visit the nearest branch and withdraw the money.
As he walked into the branch at Triplicane, a market hub, the cashier could only give high denomination notes: Rs 2,000 and Rs500 since the coffers of Rs 100 or Rs 200 notes were empty.
Similar situations have been encountered over the last few days across states in India, especially the south, central states, and Gujarat.
Reports like these coming in not just with a heightened frequency, but all at once, suggest that the cash crunch in banks and ATMs is real.
Three happenings help understand the situation.
Firstly, growth in aggregate bank deposits in the December quarter over the previous year is at a decade low (at least, as per available data) at 3.5-5.4 per cent.
Secondly, the number of ATMs is on a decline since the March 2017 quarter.
And finally, the movement of money in various denominations, as anecdotal evidence suggests, has been hampered.
This shortage might have proliferated nationwide on Wednesday, but it had started in Andhra Pradesh (AP) and Telangana long back in November 2017, and it might have nationwide implications in near future, experts say.
ATMs run dry, deposits slow down
"As many as 380 of the 1,273 ATMs installed by Andhra Bank in AP have run dry at the beginning of the financial year.
"Overall, 1,015 of the 6,600-odd ATMs in the state are cash-deprived as of Wednesday," KS D Siva Vara Prasad, convener of the AP state level bankers' committee, told Business Standard.
He said that cash shortage has been prevailing in the two states since November 2017 itself.
The governments of Telangana and AP have been asking for currency to the finance ministry, to which the queries by parliamentarians in the two states stand as evidence.
The Reserve Bank of India (RBI) office at Hyderabad - which services banks in both AP and Telangana - received Rs 1.33 trillion from the central bank from the month of demonetisation to February 2018, highest among all the RBI offices in the country, Finance Minister Arun Jaitley said in a written reply to Y S Avinash Reddy, MP from Kadapa, AP.
"Banks in the South always need more cash than those in northern states, since the number of small loans, say for example gold, which are realised in cash are in strong demand there, while there is a tendency to bypass the banking system for such loans in the north and the west," a banker from Maharashtra said.
Further, the growth in aggregate bank deposits is on a decline in the quarter ended December 2017.
From 15.4 per cent growth in quarter ended December 2013, bank deposits have grown by a meagre 3.5-5.4 per cent in quarter ended December 2017.
High vs low denomination, rural vs urban
While the public at some places is facing a shortage of low denomination notes, like that in Tamil Nadu (TN) and Gujarat, high denomination notes are scarce in AP and Telangana.
A report published on Factly.in, a Hyderabad-based data portal, says that from April 2017, Telangana has not received currency in the denomination of Rs 2,000 except for that valued at Rs 3,000 crore in December.
Sources also said that a lot of cash has been diverted to the real state sector in AP and Telangana, and has thus bypassed the banking system.
In many parts of the rural TN, while there are rising instances of ATMs running dry, some of the working machines are disbursing only Rs500 and Rs 2,000 notes, according to the Confederation of ATM Industry (CATMi), the industry body for ATMs.
But the phenomenon is not restricted to TN alone.
"Transactions have come down by at least 30 per cent in rural areas across the country because we are not able to fill cash," says V Balasubramanian, spokesperson, CATMi.
According to him, rural ATMs would record around 116-117 transactions a day before demonetisation, which increased by 4-5 per cent or to around 120 transactions a day in March.
"Now, this rate has dropped 50-60 per cent or to about 30-40 transactions a day," Balasubramanian added.
Rationalisation of ATMs
Many PSBs are in the process of rationalisation of ATMs.
ATMs belonging to PSBs increased from 143,795 in quarter ended June 2016 to 148,398 in that ended in March 2017, courtesy demonetisation.
But they have reduced to 146,301 in Q3 2017-18, owing to rationalisation of ATMs being taken up by major PSBs.
Bankers Business Standard spoke to said that there has been a rise in ATMs with less than 10 hits a month in some rural pockets in some states.
Such ATMs are being shut, they said.